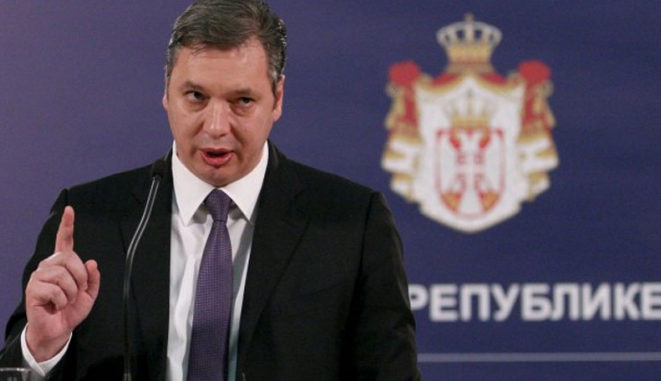 Aleksandar Vučić says "the best recipe" for a government was "a plan and a vision," announcing that this plan will soon be completed and presented.
The future Serbian prime minister and leader of the SNS party made the remarks in the town of Šimanovci, where the German company Dr. Oetker, which produces baking powder, puddings, and other products, started building a factory on Wednesday.
"The best recipe for a government is a plan and a vision, and Serbia for the first time will have short, medium and long-term plans with clear figures and without nonsensical words," Vučić was quoted as telling reporters.
"When you have a plan," said Vučić, "everything is easier and we are close to finishing the plan and presenting it to the people."
When asked about "personnel solutions" for the future government, Vučić said that this will be discussed during the weekend. He explained that he would "first discuss this with his partisan friends, and then with everyone else."
Asked specifically if Rasim Ljajić and Sulejman Ugljanin would be ministers again, Vučić said that Ljajić will surely be in the government, while his comment regarding Ugljanin was, "We'll see."
Vučić also announced that, "if elected to serve as prime minister," one of his first trips abroad could be to Sarajevo.
He said that the authorities are finalizing tasks related to corruption and crime cases, but that "the struggle will continue with the same intensity, because it is a struggle for a better economy and to create a normal Serbia."
As for the possible "social unrest" Vučić said this prospect "did not scare him."
"I am not in power to be rich but to do something for Serbia, but if Serbia does not understand that and if it says it is easier to live in lies and deceit, and spend what we never earned even if destroyed future generations and the future of the children – then choose someone else," said the SNS leader.
"A big social uprising – I'll stay away, and that's end of the story – I'm was not born in the armchair," said Vučić.
He criticized the conduct of the previous government which he said "five or six years ago acted very frivolously and irresponsibly," because, he claims, it should have come to grips with the crisis then, "when the cuts would have been almost invisible."
This way, "they drove Serbia almost to the same situation where Greece is," said Vučić.
Commenting on the South Stream pipeline, he said the project was in the interest of Serbia, but noted that the country "was not the biggest player that makes decisions."(TANJUG)