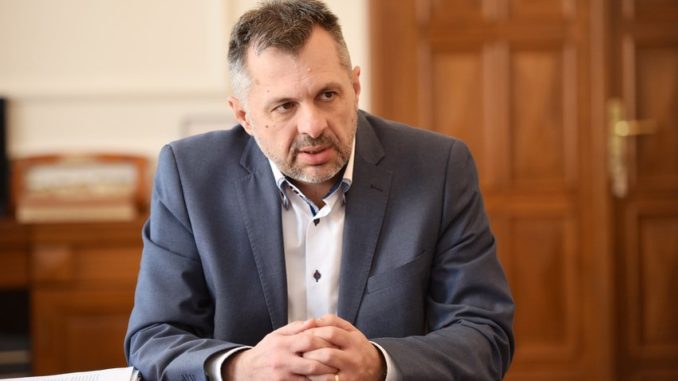 Banjaluka – Srpska parliament speaker Igor Radojičić has said Pandora's box has opened in the international law in terms of certain regions' self-determination and that the only question now is where the "next one" will occur.Radojičić recalls that the issue of autonomy of certain regions and provinces is present throughout Europe and the theory that allows one area the right to self-determination and to others does not "does not hold water."
"Pandora's box has been opened, either with Kosovo or something else, but when it comes to Europe at least, all attempts to explain that any given case is 'sui generis' have failed," said Radojičić commenting on the referendum on the status of the Crimean peninsula.
The total of 96.8 percent of people there backed annexation to Russia, according to the final results reported by head of the region's election commission Mikhail Malyshev.
Deep divisions in the making
Alliance of Independent Social Democrats (SNSD) vice-president Igor Radojičić has said Republika Srpska will see a dirty election campaign with deep divisions created along the way. "Apart from the fact that all participants are being bombed by disinformation, an even worse thing is that the intensity of mutual accusations, not only by parties, but also by others becoming involved in the propaganda war, is such that that they are creating very deep divisions," Radojičić told reporters in Banjaluka.
According to him, the election campaign had not ceased since the last local elections and that "dirt turning up in the campaign is almost unbearable."
He warned of attempts at deep divisions among the veteran population, which, as he said, would have dramatic consequences on Republika Srpska.
"One of the very good things in the homeland and defence war was that we were all on one side, but the divisions occurring right now, no matter who may be generating them, are extremely bad even if they can bring somebody a short-term political profit," said Radojičić.
Results in Serbia are expected
Republika Srpska National Assembly Speaker Igor Radojičić has said the results of the early parliamentary election in Serbia are in line with expectations and that he does not think there will be any change in the relations between Belgrade and Banjaluka.Radojičić said the Serbian Progressive Party (SNS)'s absolute victory was a little more overwhelming than anticipated, but that it meant a huge burden and an enormous responsibility for the government.
According to him, the Socialist Party of Serbia's election results were in line with expectations, while those of the other parties were disastrous.
"Such results could be a purgatory of sorts in the political scene because there are many who won't be able to recover from such poor performance," Radojičić told reporters in Banjaluka.
Commenting on the statements on the influence of the SNS's absolute majority on the state of democracy in Serbia, the Srpska parliament speaker said it was not unusual for someone in a normal parliamentary system to have such majority and that accountability came with the territory.
"We have a very unusual mindset which I think was imposed by foreigners. In the U.S. or UK, it is completely normal to have an absolute majority, and their system is set up in the way that there is a stable parliamentary majority, a definite government and a definite opposition. It is only over here that people constantly try to explain that it's not good for someone to have the majority, so then we have shaky coalition governments that cannot function," Radojičić said.
He believes it is bad that the opposition in Serbia is extremely weak at this point, but hopes that new opposition entities will emerge in the years to come.
Discussing the future relationship of the new Serbian government towards the authorities in Republika Srpska, Radojičić said no party in Serbia had had disapproving views towards Srpska.
"There were no differences in policies of any kind. The majority of the parties that are now in the parliament had been in power and every government in Serbia had tried to maintain extremely close relations with Banjaluka," he said.
Radojičić believes Belgrade will focus on EU integration, while dealing with regional issues to a lesser extent.
"You could see that in Croatia, which had for the past several years completely focused on EU integration, monitoring the situation in Bosnia and Herzegovina to a very small extent, and once it joined the Union it shifted its focus and is now very attentive of what's going on in BiH," Radojičić said.
In the parliamentary election in Serbia, the Serbian Progressive Party won 48.2 percent of votes or 156 seats in the parliament, according to the final assessment reported by the Centre for Free Elections and Democracy (CeSID). The runner-up is the coalition made up of the Socialist Party, the Party of United Pensioners and the United Serbia, with 13.6 percent of votes or 44 seats.
The Democratic Party came in third with 6.3 percent of votes or 20 seats, followed by the New Democratic Party with 5.7 percent or 18 seats.