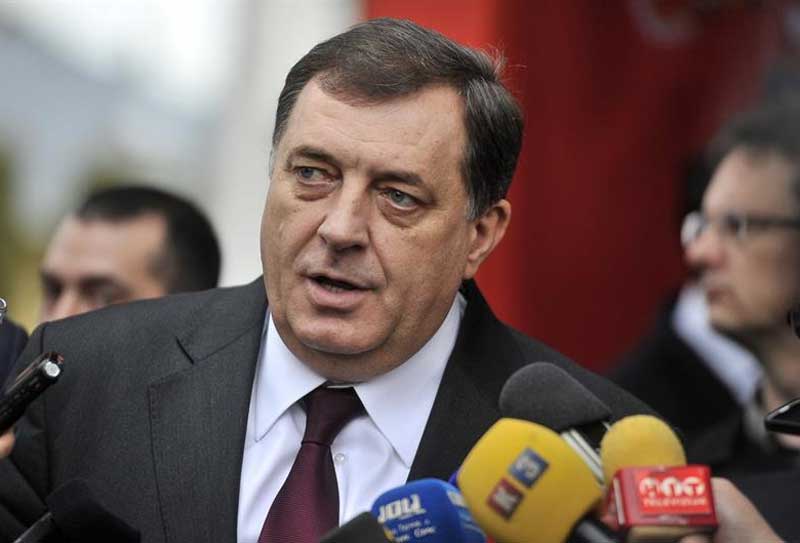 Banjaluka – Republika Srpska President Milorad Dodik on Tuesday congratulated the people of Crimea on a democratic referendum and decision to go independent, stressing that the law was not violated in the process.
Dodik said Republika Srpska feels that the people of Crimea took part in a legitimate and democratic referendum in keeping with the Constitution, international law and the UN Charter on the Right of People to Self-Determination.
"I congratulate the people of Crimea on a democratic and fair referendum, on their decision to become independent, which they voted for, and support also goes to today's agreement reached between the Russian Federation and Crimea, which means the beginning of a procedure to include Crimea in the Russian Federation," Dodik said at a press conference in Banjaluka after a meeting with the Russian Ambassador to BiH, Alexander Botsan-Kharchenko.
Dodik said that Crimea is an example of respect for the UN Charter and the right of a people to self-determination, an essential right of all peoples, which should be rehabilitated and supported, as it does not threaten anyone and gives freedom to a people that desires it.
"It is evident that not only Russians turned out for the referendum in Crimea, as was expected, but other residents as well, and a high percentage of support for independence is an indicator of the situation in this area," Dodik said.
He said that joint positions on many issues, primarily on the need to respect the Dayton Agreement and to preserve peace and stability in BiH, which is a primary goal, were reiterated and agreed at his meeting with the Ambassador of the Russian Federation today.
"The relations between Srpska and the Russian Federation are daily being confirmed as stable and good, full of understanding for the circumstances both in Srpska and Russia," Dodik said and added that the relations will develop in the future.
He thanked the Russian Ambassador for his position on the need to respect the Dayton Agreement in BiH and international law.
Dodik said that they also discussed at the meeting his recent visit to Russia and a number of bilateral issues, starting from the Southern Stream to cooperation in the oil and banking sectors.
Ashdown profits from statements on BiH
Republika Srpska President Milorad Dodik said on Tuesday that the relations between official bodies of the Russian Federation and Republika Srpska were at no time directed at instigating Republika Srpska to seek independence, and that such stories are told by the former High Representative to BiH, the pensioner Paddy Ashdown, who should not be accorded any attention.
"The story that Russia suggests or instigates the secession of Srpska is told by the former High Representative to BiH, Paddy Ashdown, who profits from every word he utters about BiH. Such are senile people like Ashdown. The money he used to earn here as the High Representative enabled him to live a life of ease and lie with ease," Dodik told reporters on Tuesday in Prijedor.
Noting that the need to respect the Dayton Agreement is stressed in all talks between Republika Srpska and Russian officials, Dodik said that Ashdown is "a senile, unproven politician, or a proven violator of international law, who, by preparing his arrival in Sarajevo, is trying to gain a renewed popularity."
"Russia is a significant partner of ours and it has never dealt with speculation, nor has it ever asked from us anything that has a political background. Everything is directed at economic cooperation and the implementation of new projects. We have the best possible cooperation with the Russian Federation, which we will continue whether some like it or not, and particularly whether senile and retired types like Ashdown like it or not," Dodik said.
He said that instead of answering before some court for his violations of international law and the Dayton Agreement, Ashdown dares hold new lectures about BiH.
"Ashdown is still protected by the IC, the same IC which at the time when he was the High Representative used to hide his criminal behaviour and the fact that he violated international law. The mandate of the High Representative is not to change the Dayton Agreement, but to implement it.
But, on the international political scene everything is missed and there is no responsibility, and this is about political violence of the worst kind that was conducted by Ashdown. Occasionally, Schilling, Petritsch and many other former High Representatives are still heard from, including the retired Mesic, who also proposes something, and we pretend to deal with them. Therefore, I propose that we do not deal with them at all, as they are not important," Dodik said.