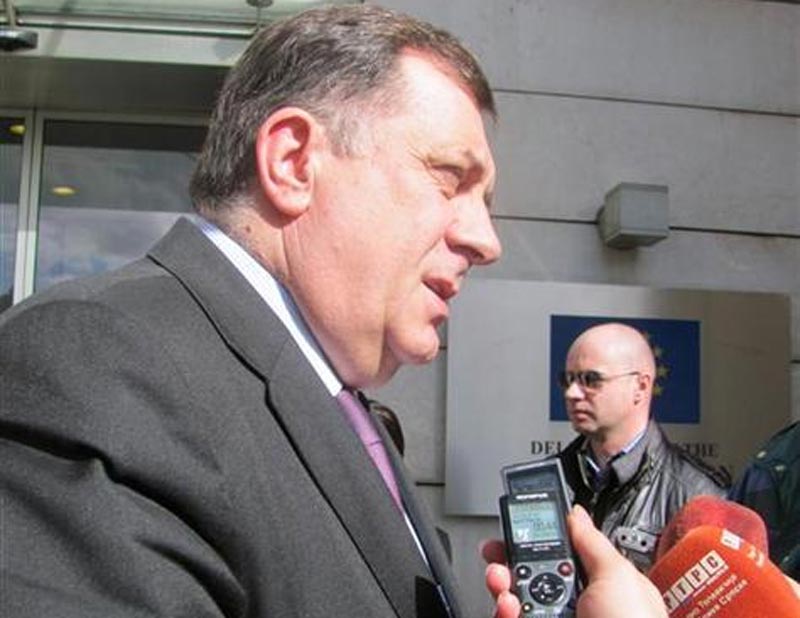 Belgrade – Republika Srpska President Milorad Dodik expressed condolences to the families of people who died in the flooding in Republika Srpska and Serbia, saying that the Srpska authorities will expend every possible effort to help those most threatened and to repair the damage done by the flooding.After a meeting with Serbian Prime Minister Aleksandar Vucic in Belgrade, Dodik said that the bodies of six victims of the flooding were discovered in the Doboj area by 10:00 this morning, which area was up until now the most threatened by the flooding.
He thanked the Serbian Cabinet for approving aid to Srpska in form of medicines, water pumps, portable generators and food, and stressed that the Republika Srpska Cabinet will continue providing Serbia with 150 Megawatt of power a day so that the Serbian electrical system might remain stable.
Dodik pointed out the need for the populace in threatened areas to act in harmony with the authorities, and said that even in these circumstances there are those who are spreading disinformation and creating an atmosphere accusatory of the Srpska authorities, even in reference to the 100-year rains leading to this disaster in Republika Srpska and BiH.
He stressed the need for bringing new legislation which will stipulate behaviour in emergency situations.
"I appeal to all to follow the instructions of the authorities and exclude all politicisation of events and to demonstrate solidarity," Dodik said.
He said that the Bosna River at Doboj is receding, and that the greatest problem at present is the rising waters of the Sava river shed, stressing that the Posavina and Lijevce Polje will be hit today.
Dodik said that he will tour Srbac in the course of the day, which town is threatened the most, as well as touring Brcko, Samac and Bijeljina.
Dodik said that difficult days for Republika Srpska are still ahead after the waters recede, but added that everyone will be focused on resolving matters.
"I was in Doboj yesterday. The water was up to six meters deep, full of naphtha, dead animals and much else besides. Now it is even more important to obey the authorities. Our economy will recover with difficulty after all this. It is important to harmonise the relations between the authorities and the populace," said the Republika Srpska President.