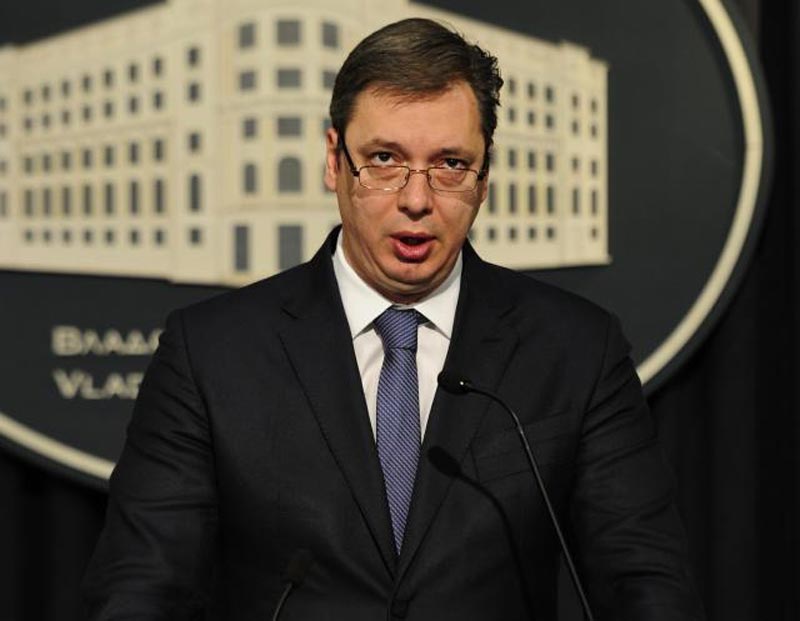 Serbian Prime Minister Aleksandar Vucic said today after a meeting with Republika Srpska President Milorad Dodik that the Serbian Cabinet will, despite the difficult situation in which Serbia finds itself, do everything to help the people of Srpska hit by flooding.
"The Republika Srpska Cabinet asked for aid, and we provided food, medicines, sacs, and will provide everything else that we can," Vucic said at a press conference in Belgrade.
He thanked President Dodik for the support Republika Srpska in these dramatic moments provided Serbia and added that the moment to face the number of victims in Obrenovac is yet head.
Vucic thanked thousands of Belgrade residents and residents of other cities in Serbia who heeded the Cabinet's call to join in the defence of Sabac, stressing that they are the heroes of this unfortunate time and real patriots who demonstrated how to love one's country.
He noted that in the first hours after the flooding there were problems with organisation at points where the volunteers had gathered, but that the operation to raise the levee at Sabac was successfully completed during the night and that he believes the Sava will not breach it.
"We raised the levee to 7.3 metres, which at its highest had stood at 6.8 metres. I believe Sabac will endure. In any case, a huge job was completed. Young men at the levee are the heroes of Serbia and they showed that our country has a future," Vucic said.
He particularly thanked the Russian Special Forces who, as he said, demonstrated superhuman courage and professionalism in their task of rescuing people in Obrenovac, as well thanking the Governments of Bulgaria, Slovenia, Austria and Germany, who also sent aid.
He appealed to citizens in the flooded areas to cooperate in order to avoid fatal consequences, and reiterated that every abuse of this tragedy will be harshly punished.
"The drinking water in Belgrade is safe, and everyone who spreads false information and profits from the people's misery will be punished," Vucic said.
He pointed out that there are some who want to portray the natural disaster as the responsibility of the state, stressing that he will not allow it, for, he said, all state bodies are engaged at overcoming this catastrophe to the full.