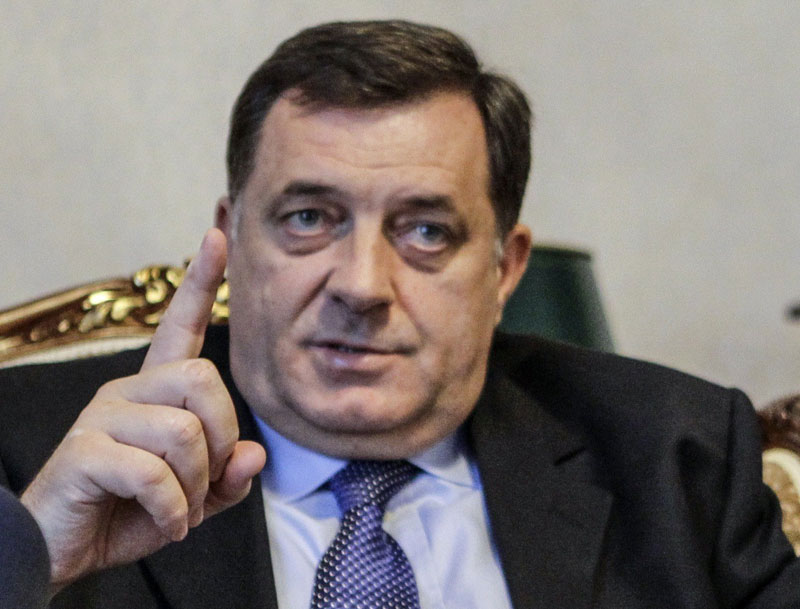 Banjaluka – Republika Srpska President Milorad Dodik said that Moscow has been very principled in its position that there can be no Dayton 2.
"At sessions of the UN Security Council, whenever there was discussion of BiH, the Ambassador of the Russian Federation always respected the positions of Republika Srpska. Prior to any report from the High Representative to BiH, Valentin Inzko, which were full of falsehoods, we wrote our reports which the Russian Ambassador presented as facts and spoke of the real situation," Dodik told Radio-TV Republika Srpska on Thursday evening.
He said that one can best see from the example of the Dayton Agreement that Russia is principled in its support of international law.
He said that Russia was not the country which supported and allowed the political violence of High Representatives to BiH.
"It was clear from talks with /Russian Foreign Minister/ Sergey Lavrov that Russia remains witness to the Dayton accords and a guarantor of way in which it can be changed, it being only through agreement in BiH, and in no way by intervention from outside," Dodik said.
Dodik said that Russia remains an important ally and that Srpska does not want to abandon this alliance.
Dodik said that the EU must play a constructive role in BiH, support the functioning of the system and not violence in the streets of the FBiH, which certain EU officials supported, stressing that they could hardly wait for that to happen in BiH.
"Our position is clear when it comes to European integration. It primarily means the resolution of the Sejdic-Finci issue and the issue of a coordination mechanism. Republika Srpska has absolutely clear and precise positions, and we do not intend to change them," he said.
According to him, the European Commission will be able to define a new policy towards BiH only after the elections in May, namely, after a new European Parliament is formed, which is expected to happen in November.
"If Europe wants this area to progress more quickly towards integration, then it will have to turn BiH's road to the EU into a two-speed road. Republika Srpska can go faster and we are stopped on this road. If they want to have this area as a partner in the EU, then they must give us the advantage," Dodik said.
Decoration is recognition for all of Republika Srpska
Republika Srpska President Milorad Dodik said on Thursday that the decoration awarded him by the Fund of Unity of the Orthodox Peoples, which was presented to him in Moscow by His Holiness the Patriarch of Moscow and all Russia, Kiril, for him represents a recognition for all of Republika Srpska and the people in it.
"This recognition means that Republika Srpska was noticed, as was everything we are doing in the struggle for Srpska, for our values and our way of life, which is here predominantly dedicated to Orthodoxy," Dodik said.
He told Radio-TV Republika Srpska that also noticed was what Republika Srpska is doing in order to strengthen the Serbian Orthodox Church, while supporting other religious communities.
"Last year, the Patriarch of the Russian Orthodox Church decided to nominate me for this recognition, and the office of the President of the Russian Federation approved this. This decoration I received from the hands of a man who by his values and leadership in the Russian Orthodox Church undoubtedly captures the attention of the entire world," Dodik said.
According to him, the most significant thing about the decoration is the fact that Republika Srpska has been noticed in the Russian Federation.
Dodik said that before the award ceremony, he spoke with Patriarch Kiril and his associates, and was impressed by the Patriarch's understanding of the situation in Srpska.
"I learned that the Patriarch visited Republika Srpska during the war, and so he knows many things. He is a man who undoubtedly has political importance in the Russian Federation," Dodik said, stressing that he is very happy that Srpska has received this decoration through him.
Dodik noted that the decoration includes a monetary gift of $ 80,000.
"I have decided to distribute this money throughout Srpska, to its people, institutions and organisations, to those who need assistance. In the coming days, I will meet with people who I think should be involved in distributing the funds in order to bring the decision in this matter," Dodik said.