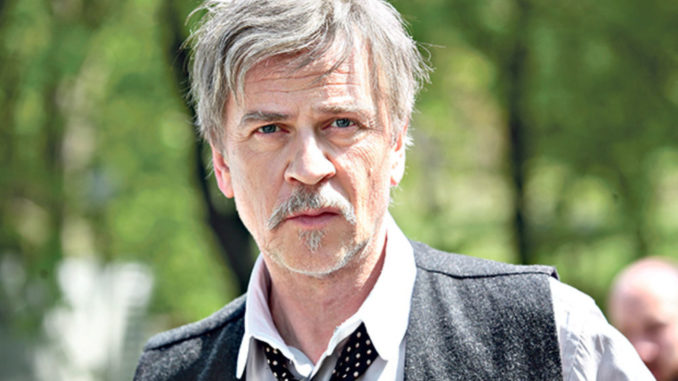 The legend of the Yugoslav cinematography Zarko Lausevic was secretly in Montenegro from Sunday morning till yesterday afternoon.
He was yesterday at 15.25 on a flight to Belgrade where he landed less than an hour later. Journalist crews at the Nikola Tesla Airport surprised the actor who came to Belgrade accompanied by a friend. The Blic asked him how he was and he replied shortly 'I am well'.
He was upset but was trying to hide it by dark glasses. His jaw and hands were shaking. It was obvious that media attention was not at all pleasant to him, but nevertheless he was kindly communicating with journalists. Then followed questions about his tragedy, friends, flooding in Serbia and Bosnia… However, he did not reply to those question. He only replied to a question whether his new book would not deal with his personal tragedy by saying he did not know.
As the Blic learns from people closeto Lausevic, he was at Cetinje on Monday where he visited his father's grave after seventeen years. Lausevic's father died while he was in prison in 1997. Zarko spent all the time with his family, relatives and a couple of close friends.
Zarko Lausevic came to the Balkans from the USA on Thursday. On Sunday morning he landed in Montenegro and yesterday returned to Belgrade. It is still not known how long he would stay here.
Zarko suffers for his homeland
Yesterday we called Zarko's friend and colleague Irfan Mensur who told us that Zarko 'suffers for his homeland'.
– We are great friend and we talk about many things. However I do not want to hurt him in any way so I never ask him deeply intimate questions like the one if he would like to continue his life in Montenegro. I believe that deep down in his heart he wants it. He is suffering for his homeland, friends and family. It is absolutely normal that his visit passes without much attention paid to it so as not to cause anybody's revolt – Mensur said for the Blic.
In America for fifteen years
Zarko Lausevic went to the USA at the end of 1999. He was convicted for a double murder and heavy injuring in Podgorica on July 31, 1993. Lausevic and his elder brother Branimir were then attacked by a group of people. Protecting his brother and himself, Zarko killed two of them and heavily wounded another one. In 2011 his moving book 'A Year Passes, A Day Never' was published. It is a story about the tragedy, sentence and the days in prison. Then Serbia President Boris Tadic pardoned him on December 29, 2011. Then Home Minister Ivica Dacic handed him the Serbian Passport in New York on February 1, 2012. Last year Lausevic published his new testimony 'The Second Book'.