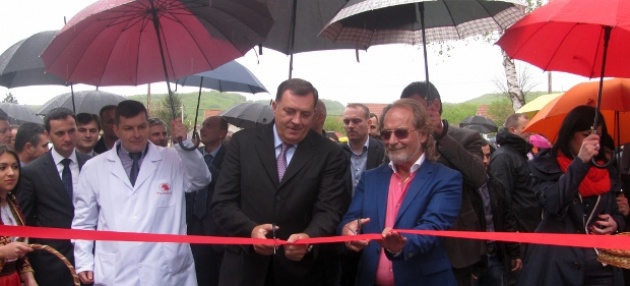 Nevesinje – Republika Srpska President Milorad Dodik and the majority owner of the Swisslion Company, Rodoljub Draskovic, today in Nevesinje solemnly opened a new food production facility, where over 100 people will be hired by the end of the year.
Dodik thanked Draskovic for investing millions in implementing this project, which will mean a lot for this underdeveloped municipality, stressing that Republika Srpska institutions will always support this and similar companies which contribute to the development of Republika Srpska.
Dodik said that the Herzegovina, in addition to energy, is becoming a strategic area for developing the food industry.
Draskovic said that Swisslion Trebinje invested some seven million euros in the project and expressed satisfaction that the production facility will start operations within the planned deadline, and that a great number of Nevesinje residents will be able to find jobs in this plant.
He said that in a month, the implementation of one of the major projects in the food industry in the past few years – the construction of a new Swisslion Trebinje 2 plant – will start soon, in which tens of million euros will be invested, which will create conditions for creating several hundred jobs.
A solemn opening ceremony in Nevesinje was also attended by His Eminence the Bishop of Zahumlje, Herzegovina and the Littoral, Grigorije, and a great number of businessmen from the Herzegovina, Republika Srpska and Serbia.
The project in Nevesinje included the production plant reconstruction and purchase of contemporary equipment, and other necessary works, and new production lines will produce fruit juice in cartons, alcoholic beverages, mayonnaise, ketchup, jams and marmalades.
Experts from Milanovac will work with newly-hired workers, some of whom were in Milanovac for training, in the first month of production in order to monitor the production process.(SRNA)