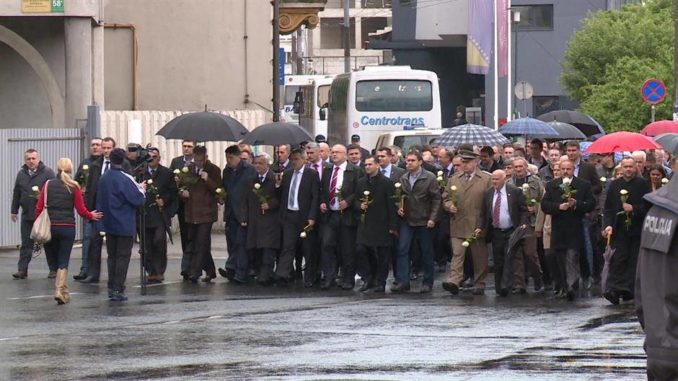 Sarajevo – The families of former JNA soldiers killed in Dobrovoljacka Street in Sarajevo in 1992, survivors and officials of Republika Srpska, headed by Prime Minister Zeljka Cvijanovic, today arrived in Dobrovoljacka Street and paid their respects to those killed in this street.
The participants of the commemoration, which included the Minister of Labour and Veterans' Affairs, Petar Djokic, and local government representatives, laid roses and lit candles at the place of the crime.
Condemning this horrible crime, Cvijanovic said that the place of the killing of JNA soldiers deserves to be remembered.
She once again expressed her bitterness over the fact that the BiH judiciary failed to prosecute this war crime.
Sarajevo Canton police provided security for the commemoration, which passed peacefully.
After a peaceful walk, the laying of flowers and lighting of candles in Dobrovoljacka Street, the ceremony of marking the 22 years since the killing of JNA soldiers in this Sarajevo street will resume at the Miljevici military cemetery.
The ceremony is being attended by the Deputy Chairman of the BiH House of Peoples, Stasa Kosarac, the Serbian Ambassador to BiH, Stanimir Vukicevic, members of the Republika Srpska Parliament and Republika Srpska members of the BiH Parliament.
The attack on a JNA convoy in Dobrovoljacka Street, which was peacefully withdrawing from Sarajevo in keeping with the agreement and under guarantees of safe passage from the UN forces headed by General Lewis MacKenzie, was commanded by BiH Presidency member Ejup Ganic and the leadership of the then Republic of BiH.
Even though the safety of the soldiers was guaranteed by the then chairman of the BiH Presidency, Alija Izetbegovic, the JNA convoy was ambushed.
Forty-two JNA soldier were killed, 71 were wounded and 207 were captured. The first attack was conducted on May 2 against the JNA Home, and all JNA barracks in this city were blocked and put under siege by Muslim paramilitary forces, which cut the power, water and phones. (SRNA)