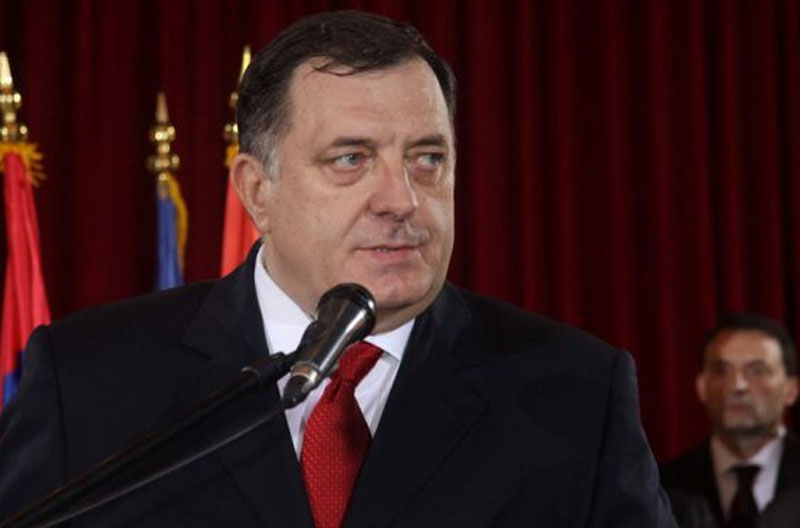 Milorad Dodik, the former basketball player who is president of the Republika Srpska—the Bosnian Serb Republic—is thinking about divorce.
Living in a fragile, post-Balkan shotgun marriage of rival ethnic groups, brokered by America in Dayton, Ohio in 1995, Dodik says he wants his Serbian-dominated republic to break away. He may be inspired by events in Crimea, but he thinks secession movements in Scotland and Spain's Catalonia help make his case.
What is not clear is whether Dodik is serious about further Balkanizing the historically war-fraught region or is merely playing politics, and whether fellow Slavs in Moscow, who are now in a confrontational mood, will back him.
The 55-year-old Dodik sure sounded sincere last week as we sat for a chat in his large, sunny office at , his native city and the capital of the Serb Republic, one of the two political entities that make up Bosnia and Herzegovina (the other is the Federation of Bosnia and Herzegovina). "It will happen all of a sudden," Dodik predicts when I ask about the timing of his plan to break up that union by conducting a Crimea-like referendum.
If such a referendum takes place and, as widely expected, passes, his republic will then separate from the Muslims in Sarajevo, setting the stage for renewed hostilities, or perhaps, as Dodik believes, a better arrangement for everyone.
The federation that uneasily wedded Bosnia and Herzegovina to the Serb Republic was created in the Dayton negotiations, which ended Europe's bloodiest war since the 1940s. According to Dodik, the union was artificially created by outsiders, is frustrating to the Serbs and is doomed to fail.
"We don't have anything useful that we can get from Bosnia and Herzegovina," he says. On its own, he believes, Republika Srpska can do better financially and even integrate with Europe faster than if it remains in the union. Nevertheless, Dodik, well aware of Western concerns, has yet to set a date for his referendum. "We will wait," he says. "We don't want any destabilization or chaos."
Some in Banja Luka and beyond believe, therefore, that his referendum talk is just that, an attempt to shore up his nationalist credentials as the October presidential election nears. But Dodik says he is serious. He often cites Scotland and Catalonia as examples of places where the people want referendums on independence, just as he does. The more he says it, however, the louder alarm bells ring in Sarajevo, in Brussels and in Washington.
Westerners are thinking less about the secessionist demands of Scots or Catalans and more about the actions of the Crimeans, who, at Russian President Vladimir Putin's urging, conducted a referendum last month, joined Russia and put a sharp end to what seemed like a post-Cold War calm in Europe.
According to Dodik, the West is being selective about the right for self-determination by referendum. "Slovenia seceded from Yugoslavia," he says. In 1990 "they had a referendum and declared independence. After a few years, they became a member of the European Union. So why should Crimea be any different?"
So when Russia's foreign minister, Sergey Lavrov, met with Dodik on March 16, the very weekend of the Crimea referendum, some in the region speculated that Moscow would approve a similar maneuver in Bosnia as well. (Shortly after my chat with Dodik last week, we attended an annual Banja Luka ceremony, where the keys to the city were prominently awarded to Alexander Botsan-Kharchenko, Moscow's ambassador to Bosnia and Herzegovina.)
Serbs and Russians may have much in common, but Dodik waves off any suggestion that Putin is behind his referendum campaign. "I haven't discussed that issue with them," he says.
True, he adds, "the Russians are always more fair to us than the West," but "from a civilization perspective, we are European," and Europe is the republic's natural ally. (He also dismisses the notion of renewed hostilities between Russia and the West as a simplistic "myth.")
Yet, in the diplomatic clash over Crimea, Dodik took Putin's side: Because, according to the Dayton Accords, Republika Srpska must approve Sarajevo's foreign policy decisions, Dodik stopped the Bosnian U.N. delegation last month from voting in a General Assembly resolution that declared the Crimea referendum illegal. It passed anyway, but without the support of Bosnia, a European Union aspirant.
In Dodik's eyes, the Balkan problems are much older and more complex than those in Crimea, and they can be resolved only by ending the union with Bosnia's Muslims. If the region can accommodate two Albanian states, Albania and Kosovo, he says, there can be two Serbian countries as well. And he is impatient with "Western politicians who made a career" out of Yugoslavia's demise, blaming ClintonKosovo-era officials for creating an independent state of Bosnia where none had existed before.
Now, he complains, everyone—Turks, Iranians, Arabs, Europeans—is pushing and pulling in Bosnia, as the same old outside mediators keep changing the constitution and the rules, while the Serbs lose out.
Dodik was not always this antagonistic. Americans once considered him a moderating voice among extremists, contrasting him with the ultra-nationalist Serb leaders who ended up in war crime tribunals. As then-secretary of state Madeleine Albright once put it, Dodik was a "breath of fresh air" among Serbian politicians.
Now Washington is alarmed at his separatist talk. "Neither the Constitution of Bosnia and Herzegovina nor any other part of the Dayton Accords offers any entity the right to secede," a State Department official told me last week. "Any action taken by Republika Srpska toward the dissolution of Bosnia and Herzegovina would violate Dayton."
In an April 14 resolution, passed in Luxembourg, the European Union's foreign affairs council began by issuing a thinly veiled Dodik condemnation, declaring "as unacceptable secessionist and divisive rhetoric and ideas" in Bosnia.
In Banja Luka (a town of 200,000) and throughout the Republika Srpska, separation is widely popular. But Dodik also knows that he's isolated beyond the republic's borders.
"Every mention, even this interview with you at the moment, every mention of the referendum is sensitive," he says, and in the end "they will still believe that I'm the bad guy."
Then he adds defiantly, "So what? Should we give up?" Republika Srpska, he insists, has all the "important elements for establishing an independent country. The only thing we don't have is international recognition." And, he says, the universal attention and resistance to his independence drive further convinces him that he is right.
"We don't need Bosnia," Dodik says. "It's not actually only about politics. It's mentality as well. History. The Serbs had never accepted Bosnia as a state."
On June 28, he reminds me, the world will mark the 100th anniversary of the assassination of the Austrian archduke Franz Ferdinand in Sarajevo by five Serbs and one Muslim who opposed the Austro-Hungarian empire. It sparked World War I, one of the cruelest bloodbaths in history.
"We think it was a pretty heroic act, but the other side thinks it was an act of terrorism," Dodik says. So in June "we will mark it in a different way here, and the Muslims in Sarajevo will mark it in a different way there." Disagreements about everything, from history to current affairs, continue to deepen in the Balkans—a volatile mix in a region where world wars tend to begin.(newsweek.com)