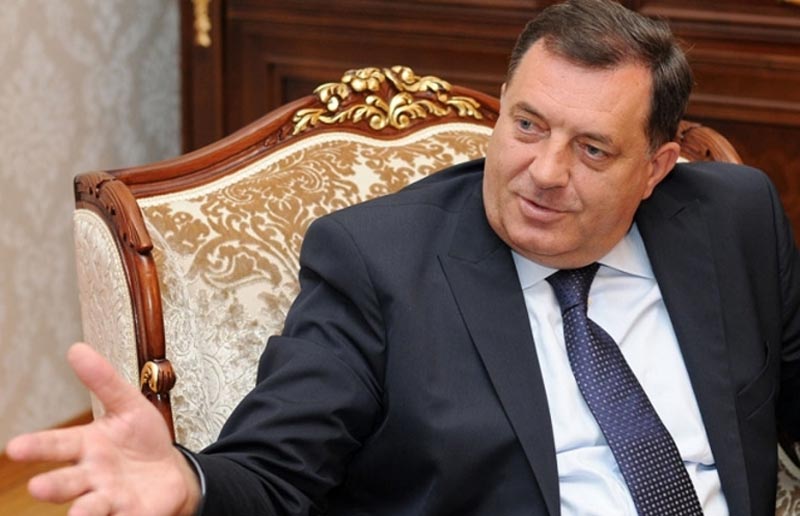 Banjaluka – Republika Srpska President Milorad Dodik told SRNA that today's operation conducted by the BiH State Investigation and Protection Agency /SIPA/ was a needless demonstration of force and that it showed a political bias of SIPA and the BiH Prosecutor's Office, stressing that he is convinced that employees of the Republika Srpska Banking Agency and the Investment-Development Bank worked in keeping with the law.Dodik stressed that SIPA continues, particularly after the SDS cadres took it over, to parade through Republika Srpska and to act forcibly, trying to subsume these actions under some legal operations.
He pointed out that SIPA and the BiH Prosecutor's Office are unauthorised institutions which are not in keeping with the Constitution but are in keeping with the international will, adding that they serve to put pressure on Republika Srpska and its institutions.
Dodik says that obviously it was not enough that these people were called by the Prosecutor's Office and that they gave statements, but some wanted to make a media spectacle.
"This is what was done. SIPA's raid of Republika Srpska institutions is nothing else but the demonstration of this roughness and a proof to everyone that we do not need at all such a BiH with such institutions," Dodik has said.
Dodik noted that a selective approach by these institutions was visible many times, particularly when it comes to people who committed crimes against Serbs, who have not been questioned or prosecuted.
The Republika Srpska President says that he is absolutely convinced that employees of the Republika Srpska Banking Agency and the Investment-Development Bank did their jobs in keeping with the law and that there are no elements of guilt.
"However, a spectacle was needed to hide the weakness or earlier given promises of some alleged fight," Dodik said and added that the way of operations of the BiH Prosecutor's Office is not a fight for law.
Dodik said that the BiH Court and Prosecutor's Office and SIPA brought fear to this country and became the main authority in "such a BiH," which, he says, cannot last long.
"I trust Republika Srpska institutions immensely. I believe that there is no any reason for destabilisation of these institutions," Dodik said.
Dodik believes that that which was done today will not have its epilogue in sentencing judgements.
"This speaks the best how agencies are being abused. This is the work of certain media in Republika Srpska and opposition politicians who often, while abusing these institutions, are trying to settle accounts with Republika Srpska," Dodik said.
He said that everything has its ending, including this.
"What I can say today is that I have greater trust in Republika Srpska than ever before and that I will never give up the fight for its stability," Dodik said.
That which SIPA and the BiH Prosecutor's Office are doing, Dodik says, is being done by the SIPA director who is from Republika Srpska and who is a cadre of the SDS, which orders he is executing, and this is a blow on the political, institutional and financial position of Republika Srpska.
"They want to destroy the complete banking system in Republika Srpska, and it is clear to everyone from the example of the Pavlovic Bank that they did not have any reason to do so," Dodik said.
He believes that people who are abusing institutions will one day have to answer for this.