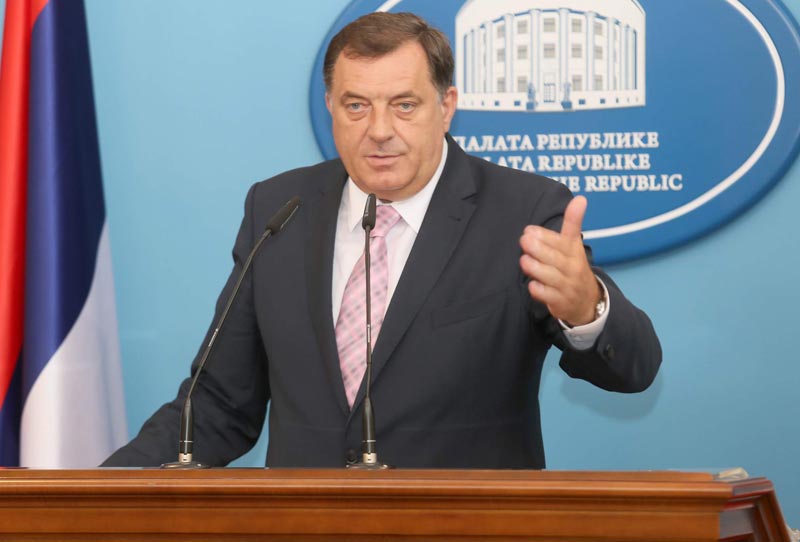 Republika Srpska President Milorad Dodik said that the attempts of the opposition to deal with the idea of a referendum are politically immature and irresponsible, and that the requests the opposition sent him in this regard are not in keeping with the Constitution.
Dodik said that the issue of a referendum on independence for Republika Srpska is not something that can be used for daily political ends, but rather a basic right of Republika Srpska which will be used when conditions are right.
"I am convinced that conditions will be right, and that Srpska will inevitably call a referendum on its status, which, despite the challenges expected, will beyond a doubt be the expression of the will of Republika Srpska and its people," Dodik told reporters on Tuesday in Banjaluka.
He said that Srpska has its own referendum legislation and that he is proud the current government brought it.
"This law clearly stipulates when and how a referendum can be called, who can initiate it and how the character of a referendum is decided, which referendum can be binding and non-binding," said Dodik.
He said that the opposition is trying to hide the fact that they themselves have the possibility to propose a decision to call a referendum and a decision on the character of a referendum.
Dodik, who is also the leader of the SNSD, called on the opposition to initiate the holding of a referendum, which the SNSD members of the Republika Srpska Parliament will support.
"We must see those who think that the time is right for something like that proposing it, and not like cowards trying to hide behind some other political authority," Dodik said.
He stressed that a referendum is not something one can play with, but is a matter which is done only once. "This cannot be done at the wrong time, this cannot be done five times, this can be done precisely and carefully at an opportune moment. This is not a matter of euphoria, wanting, vanity, frustration, but one of precise political decision," Dodik said and added that there is room for a referendum in the policy he is conducting.
He said that the SDS is an incompetent, uneducated political structure, having in mind that it is missing all legally stipulated procedures regarding a referendum.
According to him, this is proof that this is being done either on purpose or the SDS is completely uneducated to study the procedures and abide by them.
He added that the positions of the SDS leader, Mladen Bosic, are pro-Bonsian, almost identical to those of foreign Ambassadors, and that this concerns Bosic's political obedience.
Dodik said that "the SDS thinks politics means to spit as hard as you can at someone," disrespect him, stressing that the elections will show how the people will accept it, and that "the lie factory of Bijeljina" will not help them in this.
"Bosic proved himself to be an incompetent politician, servile and soft; he is ingratiating himself with the Bosniaks and the IC too much, and everyone impartial can see it," Dodik said.
Residence law – response to manipulation
Republika Srpska President Milorad Dodik said that political parties based in the FBiH, which have reached agreement to run jointly in the elections in Republika Srpska, have the right to associate, and that bringing a residence law will be the response from Srpska.
"The residence law will contain all the provisions of a bill proposed at the BiH level and we will enforce it. Any rejection by the High Representative will not be possible, and this time we will not abide by his decision," Dodik told reporters in Banjaluka on Tuesday.
Dodik says that Srpska will not prevent any agreement by political parties which in any way are active in Republika Srpska, but feels that the concept that is being promoted through the March 1 Coalition is aimed at creating a different atmosphere in BiH.
"From the point of view of Bosniak interests, this association is legitimate, but why then are they full of rage when we present the position that we do not want to be in a BiH as they imagine it?" Dodik asked.
Dodik says he wants legitimate, legal and fair elections, which means no manipulation in connection with residence.
"In this regard, Republika Srpska gave its support to the bill which passed the BiH Council of Ministers and the House of Representatives since these are the values of European legislation, but this bill now stops those who are citing Europe," Dodik said.
Asked by reporters how he sees prospects for forming an SNSD-SDS coalition, of which there are rumours in public, Dodik said that he considers it an April Fools' Day joke.(SRNA, TSN)