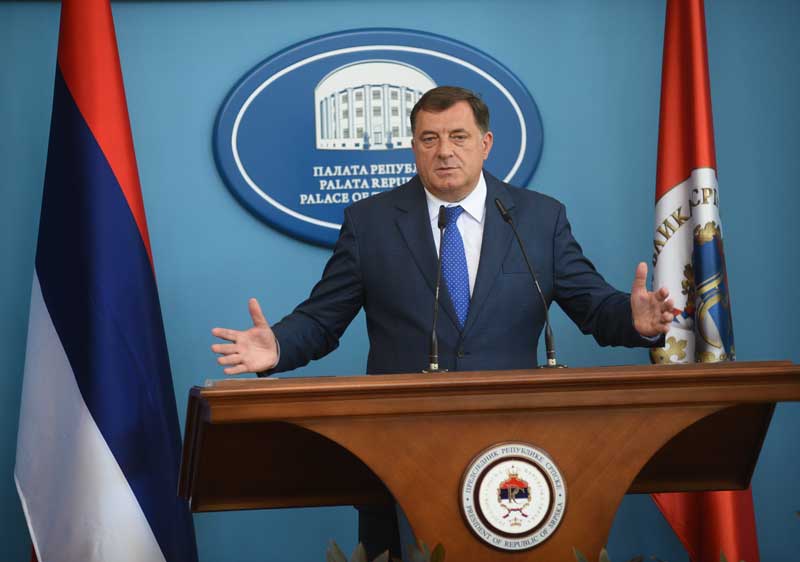 Banjaluka – RS President Milorad Dodik is not ruling out the possibility that the RS Day referendum scheduled for September 25 may be banned.
However, he said on Friday, the Serb entity (RS) in Bosnia-Herzegovina will still go ahead and hold the plebiscite.
"There's the possibility the referendum may be banned, or there may be a temporary injunction, but we will hold the referendum. The referendum in the RS is legal and based on our rights. There are various ideas, about treating that day as statehood day, autonomy day. There's a number of possibilities," he told a news conference in Banja Luka.
Dodik also observed that RS Day referendum "does not deal with secession or with territorial integrity."
"This is (about) implementing the decision of the Constitutional Court (of Bosnia-Herzegovina) and we are asking the people what they think about that decision. Serbia and its leadership neither support, nor contest the referendum," Dodik said, adding:
"That's quite enough for me."
After Thursday's meeting in Belgrade with Serbia's top officials, Dodik said he was "very grateful" to President Nikolic and PM Vucic for "a tolerant and concrete conversation."
"We have been marking (January 9) as RS Day for 23 years, unimpeded. Nobody can expect Bakir Izetbegovic to change the date of RS Day," he said.
According to the RS president, the referendum is the best way for Bosniaks (Bosnian Muslims) to also have a say regarding that date – "while it's up to them whether or not they will turn out (to vote)."