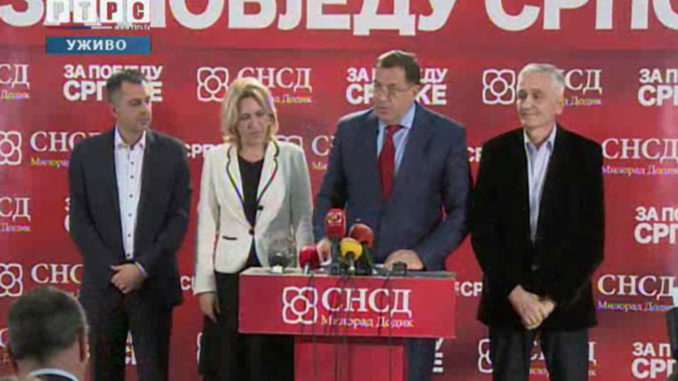 BANJALUKA – Alliance of Independent Social Democrats (SNSD) leader Milorad Dodik has said that his victory in the election for the Srpska president was certain even late on Sunday and that right now it is almost certain. "I feel like a newly-elected old president of Republika Srpska and I will be at ease in the talk about the parliamentary majority to form the institutions in a quick and efficient manner," Dodik told reporters in Banjaluka.
BANJALUKA – SNSD vice-president Igor Radojicic has said the SNSD has won the election.
BANJALUKA – The Party of Democratic Progress (PDP) has declared the victory of the Alliance for Change candidate for the Serb member of the BiH Presidency Mladen Ivanic on the territory of Republika Srpska, who received 297,751 votes on the basis of 95.52 percent counted votes, while the SNSD-DNS-SP coalition candidate Zeljka Cvijanovic received 296,640 votes.
PRIJEDOR – The Democratic People's Alliance (DNS) received 60,000 votes in the election and thus recorded a 50% growth in relation to the 2010 election when it had 39,000 votes, party leader Marko Pavic said.
BANJALUKA – Nenad Stevandic of the Serbian Democratic Party (SDS) Main Board has said that the only real winner of the general election in BiH is the SDS as the only party that achieved considerable success for all levels of government.
SARAJEVO – The newly elected bodies in BiH will face a colossal challenge to reverse the current economic situation and improve social conditions, Council of Europe Secretary-General Thorbjørn Jagland said.
SARAJEVO – The general election in Bosnia and Herzegovina was conducted in a democratic and fair environment with a few irregularities, reports the coalition for free and fair elections "Under the Magnifier."
BRCKO – The Brcko District police have received six reports related to the disruption of the election process, while in three of those cases allegations of the report have not been identified, police spokesman Halid Emkic said on Monday.