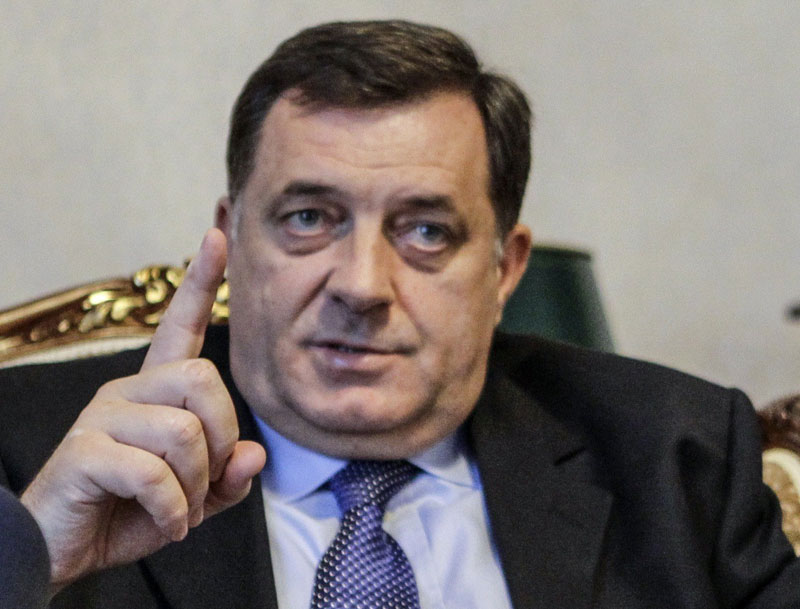 Re­pu­bli­ka Srpska Pre­si­dent Mi­lo­rad Do­dik sa­id that the da­ma­ge do­ne by the flo­oding in Re­pu­bli­ka Srpska is es­ti­ma­ted at over KM one bil­li­on and that the con­sequen­ces of flo­oding, which was the wor­st sin­ce Srpska was fo­un­ded, can­not be de­alt with wit­ho­ut the as­sis­tan­ce of the co­un­tri­es of the re­gi­on and wider.
"Only thus can the con­sequen­ces of this un­pre­ce­den­ted di­sas­ter be me­li­ora­ted," sa­id Do­dik whi­le to­uring the inun­da­ted re­fu­gee com­mu­nity of Do­bor ne­ar Mo­dri­ca.
He an­no­un­ced that he will be vi­si­ting Rus­sia next Fri­day to me­et with Pre­si­dent Vla­di­mir Pu­tin from whom he will se­ek as­sis­tan­ce, which he al­so expec­ts from the EU.
Do­dik sa­id that the aut­ho­ri­ti­es will pro­vi­de all pos­si­ble as­sis­tan­ce, and stres­sed that the Ca­bi­net must form a spe­ci­al te­am which will set stan­dar­ds for aid to thre­ate­ned are­as.
The Pre­si­dent sa­id that the­se are Re­pu­bli­ka Srpska's wor­st days sin­ce its fo­un­ding, that it is im­pos­si­ble to re­ach every ho­use­hold, tho­ugh he is sa­ti­sfi­ed by the op­ti­mism of the peo­ple in flo­oded are­as and the so­li­da­rity of tho­se who ha­ve not be­en hit by the flo­oding.
"The flo­oding was unexpec­tedly mas­si­ve, and it was im­pos­si­ble to shi­eld our­sel­ves from it. On­ce the waters ha­ve re­ce­ded, the pri­ority will be to re­pa­ir ro­ads to ac­cess ho­mes and re­mo­ve de­ad ani­mals and ob­sta­cles so that sa­ni­tary crews co­uld cle­ar the ter­ra­in," Do­dik sa­id.
Ac­cor­ding to him, not even the Do­bor re­fu­gee com­mu­nity, which had le­ve­es and dit­ches, co­uld be sa­ved.
Mo­dri­ca Mayor Mla­den Kre­kic sa­id that over 800 ho­use­hol­ds, 200 of them in Do­bor, ha­ve be­en flo­oded.
He cal­led on vo­lun­te­ers to jo­in in the cle­aning of ho­uses so that the­ir re­si­den­ts mig­ht re­turn ho­me.
Do­dik to­ured the com­mu­nity of Do­bor to­get­her with the Mi­nis­ter of In­ter­nal Af­fa­irs, Ra­di­slav Jo­vi­cic, the Mi­nis­ter of He­al­th and So­ci­al Wel­fa­re, Dra­gan Bo­gda­nic, and Mo­dri­ca Mayor Mla­den Kre­kic.
Af­ter vi­si­ting Mo­dri­ca, Do­dik left for Sa­mac.
– Republika Srpska Prime Minister Zeljka Cvijanovic said that the situation in Samac Municipality is still dramatic.
– The Republika Srpska Minister of Health and Social Welfare, Dragan Bogdanic, said that a team led by Doboj Hospital director Vlado Djurdjevic was formed in Doboj Hospital, where he and the director of the Health Centre and the head of the Regional Public Health Office will organise disinfection and pest control in this area.
– The Republika Srpska Minister of Internal Affairs, Radislav Jovicic, said today in Modrica that he ordered all of the Ministry's organisational units to implement harsher public peace and order controls and crime suppression measures in areas hit by flooding.
– Republika Srpska Finance Minister Zoran Tegeltija said that price hikes for foodstuffs have not been noticed in any retail chain in Srpska.
– The situation in the majority of health facilities in Republika Srpska is stable, except for health centres in Samac and Doboj, where aid is being delivered, announced the Republika Srpska Government's Press Office.
– Brcko Mayor Anto Domic, who is in the community of Kopnice, Orasje Municipality, where the Sava River today breached its levee, said that the situation is extremely serious as the Sava is still overflowing the levee.
– The president of the Doboj Crisis Committee, Dragan Vasilic, told SRNA that there are still parts of the city which can be accessed only by boats.
– Zvornik Municipality needs water pumps and drying guns, and fire fighters units from the Herzegovina have delivered five pumps, says a Civil Defence report issued at 14:00.
– The level of the Bosna River in Doboj today at noon was 370 cm, which is 245 less than at 08:00 this morning, says a report from the Republika Srpska Civil Defence issued at 14:00.
– 60,000 customers were without power today at noon in Republika Srpska. The situation is still difficult, but much better than a day earlier, the executive director of the Republika Srpska Electric Power Company, Maksim Skoko, told SRNA.
– In coordination with pilots from Croatia and Slovenia, the Republika Srpska Helicopter Service today conducted between 40 and 50 flights to the threatened areas and delivered equipment, food and medicines, Service director Boban Kusturic told SRNA.
– Market inspectors today also controlled the prices of bottled water and food in shops to prevent sudden price hikes, the spokeswoman for the Republika Srpska Inspectorate, Dusanka Makivic, told SRNA.
– The Republika Srpska Alliance of Radio Amateurs today activated an emergency radio network in the whole territory of Srpska and put all its technical capacities at the disposal of the Civil Defence and citizens in case of a major interruption of telephone lines.