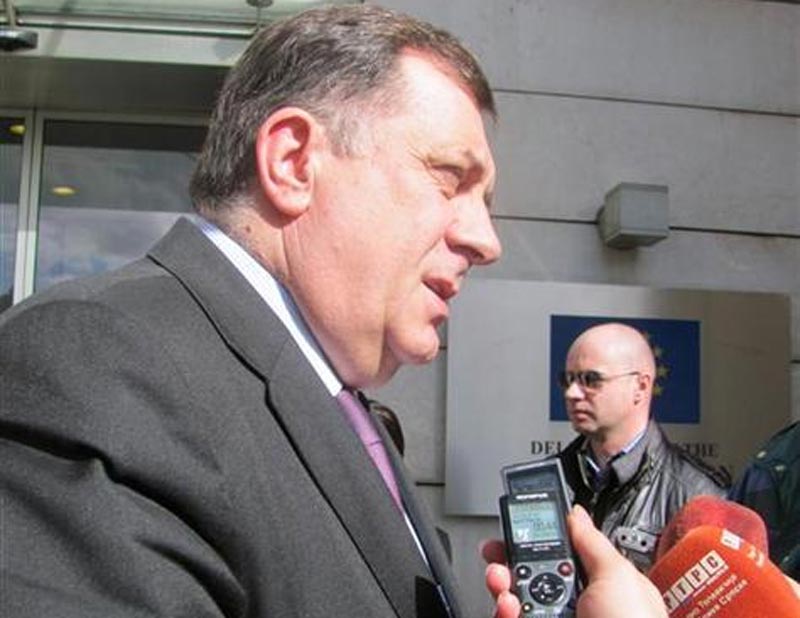 Sarajevo – Srpska President Milorad Dodik says that he and the EU high representative for foreign affairs and security policy, Federica Mogherini, have agreed that the coordination mechanism on EU-related matters is very important and that competences of all levels of government should be observed.
"That is part of what we want to hear and what needs to be done, and the key issue is the coordination mechanism," Dodik told reporters on Monday, pointing out that Mogherini would suggest to the EU Council of Ministers "that the approach to BiH itself be created in this way."
The Srpska president stated that Mogherini had conveyed the EU's official stance that Brussels is interested in the BiH accession process and that it supports it, as well as that they consider the adoption of the written commitment to reforms in the framework of EU accession process important.
"Our side has clearly said that we don't want to implement someone's policy because there is a Constitution here which needs to be abided by. Noncompliance with any part of the Constitution is absolutely supposed to mean that we are not giving any kind of support," said Dodik following a meeting which was also attended by Federation President Marinko Cavara.
He emphasised that the BiH Council of Ministers was not the government, either by the Constitution or by the law, and would not be turned into a government. "In all this, there can't be any coordinative or decisive role of the Council of Ministers," said Dodik.
He added that some announced strategies that would refer to BiH would not be backed either. "Strategies always mean reforming the Constitution, as we have seen happen before," said the Srpska president.
When such strategies are adopted, an obligation is imposed on BiH to create some new institutions or define some new policies, but Republika Srpska will not approve any new strategy that is not in compliance with the Constitution, emphasised Dodik.
"Bosnia and Herzegovina has nine competences and no competences for agriculture, energy or other sectors. Accordingly, there is no need for any strategies which Republika Srpska will reject," said Dodik.
On previous occasions, says Dodik, creating a strategy meant the transfer of competences as well. "We don't want to support any manipulative activities."
The adoption of the statement is a formal act but it remains to be seen "how all that will be done," he said.
"If we go on to comply with the competences, we can be successful. If we go on to adopt strategies at the level of the BiH parliament, then they will be challenged and blocked," said Dodik.
Dodik noted that representatives of the Alliance of Independent Social Democrats (SNSD) and Democratic People's Alliance (DNS) did not take part in the meeting of the BiH parliament House of Representatives on Monday either because they thought building the path to Europe together with the people with suspicious war-time past, who covered up or possibly took part in war crimes, was out of the question.
"We don't want to participate in the parliament as long as Sefik Dzaferovic is member of the board. No matter how much it is important to some that the SNSD and DNS be present at today's plenary meeting, we won't show up," said Dodik.
On Monday, the BiH House of Representatives and House of Peoples adopted the statement on the EU accession process and implementation of relevant reforms.
The SNSD and DNS representatives walked out of the House of Representatives meeting after it again failed to support their request to include the dismissal of House Chairman Sefik Dzaferovic on the agenda.(SRNA)