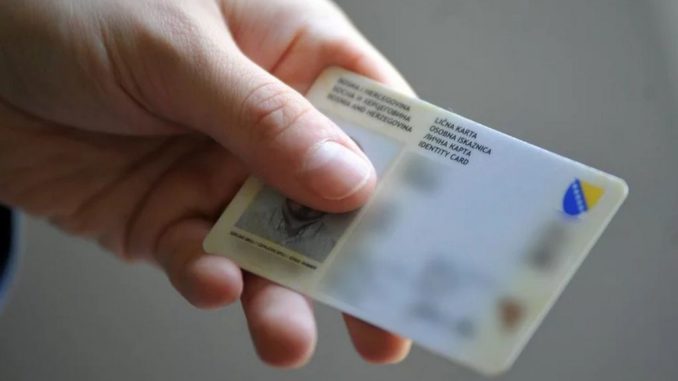 Currently 129,507 citizens of Bosnia and Herzegovina do not have an identity card. These are citizens who have not replaced or extended their current IDs.
At the same time, more than two and a half million citizens have old IDs, of which almost a third should be replaced by the end of this year. The Information Agency for Identification Documents, Registers and Data Exchange (IDDEEA) pointed out that citizens have a growing interest in replacing their personal documents.
IDDEEA states that currently 2,575,191 active old IDs are in possession of the citizens of BiH, the last of which must be replaced by biometric ones by February 2023. By the end of this year, a total of 866,103 IDs and 462,494 driving licenses will expire. In the first three and a half months already 134,510 IDs and 96,172 driving licenses were replaced.
"According to the data from middle of April, there are still 671,533 IDs and 462,494 driving licenses that will expire by the end of the year," noted Amila Opardija, spokesperson for IDDEEA.
Traveling to Serbia, Montenegro and soon Albania, by ID
Since the issuing of biometric IDs started on 1 March 2013, agency statistics show that a total of 574,947 were replaced and are being used now. The fee for replacing or issuing a new ID card is 18 KM.
The citizens of BiH are able to travel to Montenegro and the Republic of Serbia with their IDs. From the summer, it will also be possible to travel to Albania with the IDs, which could increase the interest to replace the documents.
Sanja Petrovic, director of the Administration and Support Ministry of Internal Affairs of the Canton of Sarajevo, confirmed an increased number of requests for issuance of biometric ID cards and biometric passports in the previous period. She urged citizens not to wait to the last minute to replace the document, but to do so in time.
"This year we are expecting a lot of pressure on the authorities for issuing identity documents, particularly IDs, due to the fact that a significant number expires by then," said director Petrovic.
A lack of identification is a misdemeanor which is, in accordance with the law, sanctioned by a fine of 10 to 100 KM.
"Every citizen of BiH who is 18 years old or older must have an identification card. Only those who are under 18 years have the choice to get an ID or not. Every citizen who already has an identification card has 15 days prior to its expiration to submit an application for the issuance of a new one. With regard to the new system of control relating to citizenship certificates and birth certificates, the deadline for replacement or issuing new identity cards in accordance with the legal provisions is only 15 days. Owning an ID card is an obligation because it is a basic document, and not owning an ID is a misdemeanor that is financially penalized," confirmed Sanja Petrovic to the Anadolu Agency.
Hundreds of thousands without passports and driving licenses
The IDDEEA registered 1,359,442 driver's licenses, and pointed out that 112,307 citizens of Bosnia and Herzegovina did not replace or extend the document after it expired. Not having a driver's license is not a violation of the law, but driving a motor vehicle without it is a misdemeanor. The fee for a replacement driver's license in BiH is 60 KM.
While according to IDDEEA statistics, 1,794,385 citizens in BiH possess a passport, 638,052 of citizens are without a valid passport, because they wasn't replaced after they expired. Bosnian citizens still possess 30,043 old passports that are not biometric and whose ultimate validity period is until 14  October, when the last of those documents expires.
In order to travel to the EU or Schengen countries with the old passports, the citizens of BiH need a visa, while this is not necessary for owners of new biometric passports, except for to Great Britain and Ireland.
The fee for the issuance or replacement of passports is 40 KM. All travel documents issued in the second half of 2013 are valid for ten years, while before that, they were valid just five years. This is the first time that an independent BiH passport is valid for more than five years.
(Anadolu Agency)