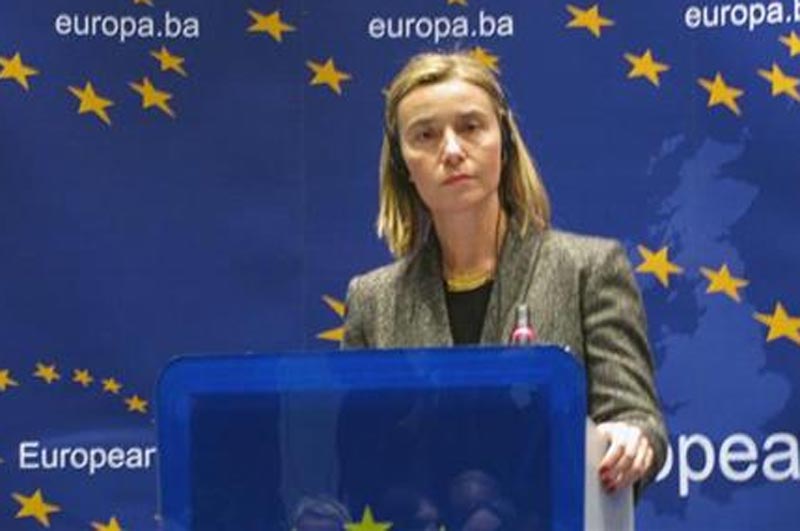 Sarajevo – EU foreign policy chief Federica Mogherini welcomed the decision of the BiH houses of representatives and of peoples to endorse and adopt the written commitment to undertake reforms in the framework of the EU Accession Process in Sarajevo on Monday.
"The Parliament of Bosnia and Herzegovina today made a historical decision concerning the country's progress in the EU accession process," Mogherini said in her speech during the second urgent session of the House of Representatives, which was attended by 12 delegates of the House of Peoples, as well as the members of the BiH presidency, Mladen Ivanic, Bakir Izetbegovic, and Dragan Covic.
According to the EU official, this was a key prerequisite for making the decision on the full implementation of the Stabilisation and Association Agreement between BiH and the EU.
She noted that Bosnia and Herzegovina was a country of incredible differences, rich tradition, and deep divisions, which must not be "a cause for lack of action."
"BiH has a lot of potential for the future and now it is in a position to use this chance, in the sense that its citizens want a brighter future and present," said Mogherini, who is also the vice-president of the European Commission.
She wants to see some concrete progress in BiH. She said: "This country can no longer make mistakes and instead needs to look up to its neighbours and move quicker to the EU."
"You must agree among yourselves on the European path and launch a series of reforms required for getting candidate status," Mogherini told the parliamentarians and guests in the parliament hall.
According to her, the endorsement of the written commitment could be a key moment in history, not only for BiH but for the whole Europe too.
She said that the EU would mark these significant developments and that she would take with her the positive atmosphere to Brussels.
Mogherini warned that BiH and its institutions needed to do a lot more in order to become a member of the EU.
"The challenges include urgent action in implementing the crucial socio-economic reforms and measures from the document on development and employment growth, cutting the enormous unemployment rates, setting up measures for a functioning market economy, rule of law, reconciliation, building of institutions, stronger social sector, etc," said the EU high representative for foreign affairs and security policy.
The EU will support these activities through its funds, said Mogherini. "The goal of everyone in BiH must be the same – making progress on the EU path. Now that the statement has been adopted, it needs to be implemented, with the general approval and coordinated action."
She underlined that the EU was strongly standing by BiH on its EU path, adding that "the success of BiH will be the EU's success too. You can count on the EU and on our support," Mogherini told the citizens of BiH.
The second urgent session of the BiH House of Representatives, which was also attended by 12 delegates of the House of Peoples, and BiH Presidency members Mladen Ivanic, Bakir Izetbegovic and Dragan Covic, was held without the representatives of the SNSD and DNS. (SRNA)