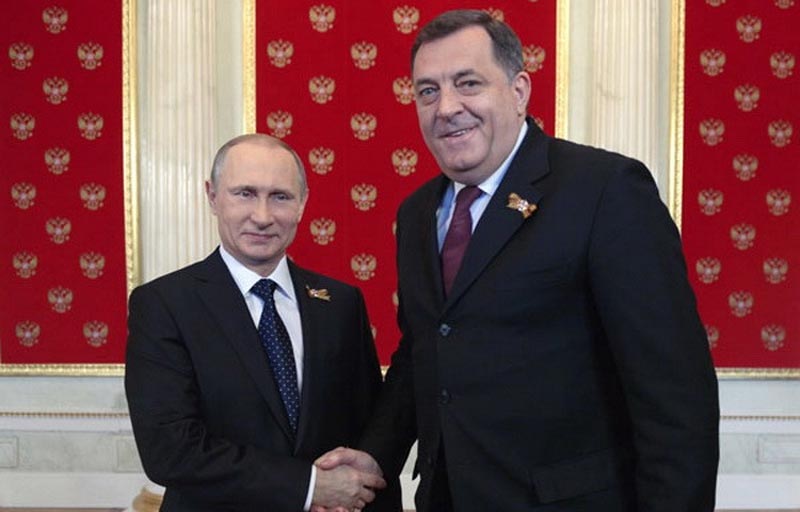 LAKTASI – Milorad Dodik says ahead of his trip to Moscow that even Russian President Vladimir Putin could not change the decision to hold the RS Day referendum.
"I'm going there for economic issues, the cooperation of the RS with Russia, not because of the referendum," the president of the Serb Republic (RS), the Serb entity in Bosnia-Herzegovina, said on Wednesday, according to the Banja Luka daily Nezavisne.
"I will present the situation, as will Putin, we will hear one another out, but the referendum will not be postponed. You would be surprised if you knew how informed he in fact is about the situation here, and how many details he has," Dodik added.
He at the same time called on as many RS citizens as possible to turn out and vote in the referendum.
Commenting on yesterday's threats of war over the holding of the referendum coming f a former Muslim forces commander Dodik said that the Serb entity was "not taking any violent actions and is not preparing for war – but nobody should doubt it is ready to defend its territory."
Dodik also said that the statements of Sefer Halilovic were "wrong and unnecessary" while Bosniaks (Bosnian Muslims) "can do nothing that way and are very much mistaken if they think the RS is not prepared and capable of defending itself."
"If they did that, it would only speed up our path toward independence, and any attempt of that sort would definitely throw us out of Bosnia-Herzegovina, where we would not stay for another minute," he told reporters in Laktasi, near Banja Luka.
The RS leader also said that "the international community is acquainted with all these things," considering that "Presidency of Bosnia-Herzegovina chairman Bakir Izetbegovic two months ago informed Western ambassadors about the arming of the Bosniaks, and the assessment of the armaments in the RS, which means that Halilovic's statement was not at all coincidental but came as part of their general approach."
"We know that everything Halilovic told us is being said by top Bosniak politicians, and exists as their option, and a desire to in this way throw Serbs out of Bosnia-Herzegovina," said Dodik.
He added that the RS was "brought into Bosnia-Herzegovina" while the warmongering statements "serve only to prove their wishes to solve something here in that way."
"But that is not the way, and the RS does not prefer it. Its options are all political, without any war ones," Dodik said.
According to him, the Serb entity is "opening factories and building roads, not arming or preparing for war."
The referendum scheduled for September 25 concerns the entity's right to celebrate its day on January 9. This holiday was previously declared unconstitutional by the Constitutional Court of Bosnia-Herzegovina.