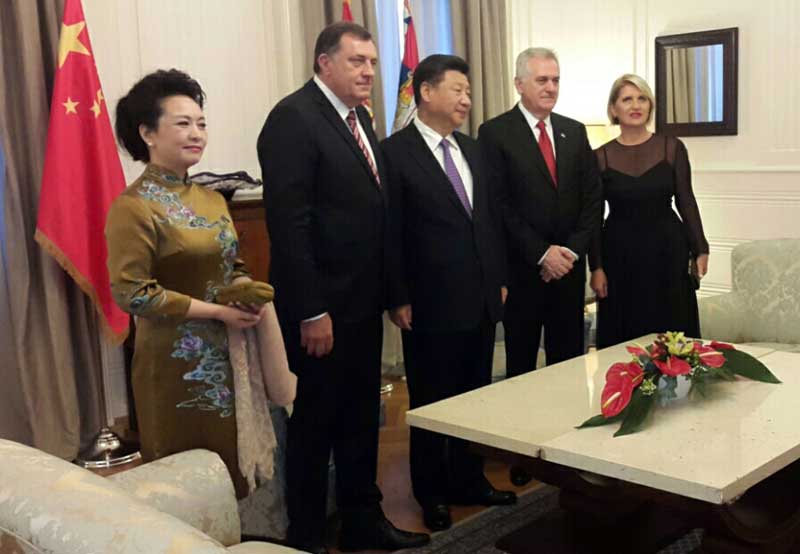 SMEDEREVO – Republika Srpska President Milorad Dodik said today in Smederevo that he would visit China in the next few months and that it would be an opportunity to define all segments of agreements reached in Belgrade with representatives of Chinese companies which will take part in some of the infrastructure projects in Srpska.
Dodik stressed that he was honoured to meet with Chinese President Xi Jinping and that he was impressed by the fact that Xi Jinping was informed of Chinese projects in Srpska, adding that the Chinese President encouraged further talks and cooperation.
He says that he thanked Xi Jinping for the very successful implementation of a project for the construction of the Stanari thermal power plant, which is already working, and for talks with Chinese partners which should result in the construction of a new thermal power plant in Gacko, but also in the construction of highways which Srpska wants to build.
"Xi Jinping encouraged us to talk and cooperate with Chinese partners and I think that he is familiar with the situation in BiH, where Republika Srpska is successfully cooperating with the Chinese," said the Republika Srpska President.
Dodik said that his meeting with Xi Jinping and representatives of the Chinese Companies was very important for Republika Srpska and its further affirmation.
He said that a protocol for the construction of the Gacko thermal power plant was signed yesterday in Belgrade with a Chinese Company.
"We also spoke with other Chinese partners – their Developmental Bank – about the construction of a highway which should connect Republika Srpska with Serbia, namely, a section from the border to Bijeljina and a highway from Banjaluka to Prijedor, which are issues that are near to being finalised," Dodik said.
He said that during a meeting with some of the members of a large Chinese delegation there was word about financial participation of their banks and other business systems in the Republika Srpska market.
"I talked about establishing free economic zones in imitation of that which we can see in China, which create many jobs. These are things we discussed and finalised in a way," the Republika Srpska President said.
Regarding the starting up of the Smederevo Iron Mill, which he today visited together with the highest officials of China and Serbia, Dodik told reporters that putting this iron mill on healthy foundations is of great importance for Republika Srpska as well.
"Republika Srpska has iron ore, in Ljubija primarily, which we sell here, and we are very interested in having this iron mill work. The fact is that the Smederevo iron mill was taken over by one of the largest companies in the world speaks that production will start and by that, our prospects for the sale [of iron ore] will be far greater," Dodik said.
Commenting on the fact that during a visit to the Smederevo iron mill citizens welcomed him with ovations, Dodik said that he was always feeling well in Serbia and that he was glad for having been in Smederevo and a part of a protocol for a visit by the Chinese President to Serbia.