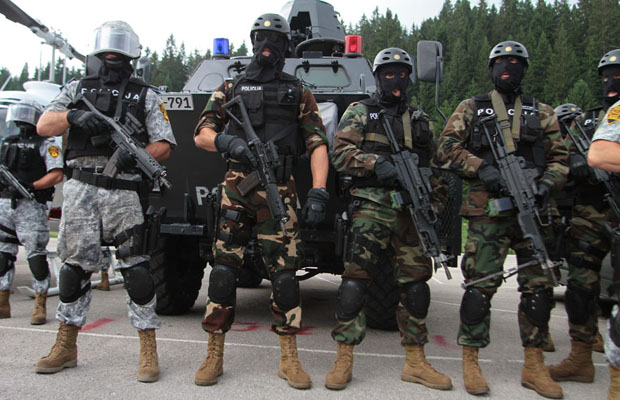 Banjaluka – Republika Srpska President Milorad Dodik said that the Republika Srpska police have in the 22 years of their existence managed to build themselves into one of the most successful security agencies in the region, adding that they ought to be the exclusive guarantor of Republika Srpska's security.At a solemn reception held on the occasion of Republika Srpska Police Day on Friday in Banjaluka, Dodik said that the police have fulfilled their tasks and proven to the citizenry that they can trust in their security potential.
"I believe that the public's trust in the police stands at a high level because of the results they have achieved," said Dodik.
The Republika Srpska President said that a look at the police's training and equipment reveals how wrong were the demands for reform of the police forces in BiH.
"Now we can quite clearly see that they were wrong. Our decision to see this doesn't happen was absolutely correct, and this was not easy," noted Dodik.
According to him, Republika Srpska wanted to become part of an integrated police protection system of the entire region, though wanting to manage its security structure how it felt was best according to its constitutional system.
"Our demands were never anti-Dayton; we always fought to preserve the Dayton and constitutional position of the various structures of the country, especially the Republika Srpska Police which were attacked and under threat of disappearing," said Dodik.
Dodik feels that such a solution would not have helped BiH either, but would significantly have threatened security in these parts. "I am proud to have been a part of the structure which with conviction and courage defended the idea of Srpska police, its survival and development, which today is unquestioned," Dodik said.
He expressed satisfaction with the attendance at the reception of police representatives from Serbia, Croatia, the FBiH and BiH, as well as expressing the conviction that coordination and good cooperation coupled with respect for jurisdictions is the best thing happening in the region, for organised crime and corruption cannot be suppressed without an efficient and incorruptible police.
"I am proud that we managed to discover among our police those who have used public resources and powers for criminal purposes," stressed Dodik.
He warned that there are those in the Republika Srpska Police who, as he said, serve foreign security and intelligence agencies.
"Some of them I know, and such subservience and cooperation are unacceptable. In the coming period, such must be recognised and distanced from the police. We can cooperate with all but we cannot have in our structures officials serving such intelligence agencies," Dodik said.
He said that the Republika Srpska Police have demonstrated their capability to fully execute all lawful obligations and that they are not ethnically motivated.
Dodik announced that he will commit to police officials being fully protected in the conduct of their duties, and that he will look for ways to improve the status of police within the law on police officers.
"No group can be allowed to terrorise society and this is why the police must be protected," Dodik said.
He congratulated Police Day to all members of the police, noting that the search for a secure life ought to be the absolute priority of the police.
Cvijanović: Police – Part of Srpska's identity
Republika Srpska Prime Minister Zeljka Cvijanovic said that Republika Srpska police are inseparable from and a constituent part of Srpska's identity, which is why the Police Day celebration is among the most important events in Srpska.
"I am satisfied that we have managed, despite the difficult and great challenges brought on by the economic crisis, to work on concrete things towards improving the status and material position of our police," Cvijanovic said on Friday in Banjaluka at a solemn reception on the occasion of Republika Srpska Police Day.
She said that her Cabinet managed to provide for new vehicles, motorcycles and uniforms for police, as promised for this year, and announced that in the nearest future the Cabinet will increase police wages by 5%, and by over 5% for four to five categories of police, namely, for the Support Unit and the Special Police Unit.
"Our police have great importance, they are working under difficult and complex conditions," Cvijanovic said.
Wishing all members of the Interior Ministry a happy Police Day, Cvijanovic thanked them for their dedicated work and good results.
She said she was proud of the fact that when talking to her colleagues in the region, she always hears that Republika Srpska police are the best in the region and that everyone wants to cooperate with them.
"The most important characteristic of Republika Srpska and its institutional development is the development of our police," Cvijanovic has concluded. (SRNA, photo: Glas Srpske)