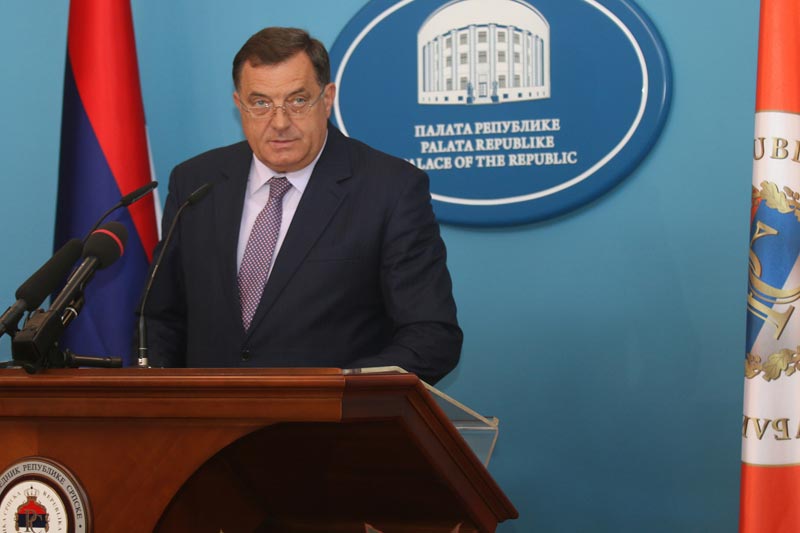 Banjaluka – Republika Srpska President Milorad Dodik announced today that review of constitutionality of March 1 as "BiH Independence Day" will be sought before the BiH Constitutional Court.
He has said that the arguments listed in such a request will be as same as the ones that were used in contesting January 9 as the Republika Srpska Day.
Dodik has added that the request for initiation of legal proceedings before the BiH Constitutional Court related to March 1 will be submitted by the SNSD Parliamentary Caucus in the Republika Srpska National Assembly, which he tasked so.
He has noted that the request will be submitted to the Constitutional Court to review the constitutionality of all laws and legal acts adopted in the Parliament of the Federation of BiH, as the Serb Caucus in the House of Peoples of this institution has not been constituted in accordance with the Constitution.
At a press conference in Banjaluka, the Srpska president has said that he has not yet received a hearing notice from the BiH Prosecutor's Office over the referendum on Republika Srpska Day, but that he will respond to it in any judicial institution in Srpska, not in Sarajevo.
"I am ready to give a statement in any judicial institution in Srpska designated by the BiH Prosecutor's Office, but not in Sarajevo. There is no accountability in this case. It is all a question of Sarajevo politicians' voluntarism who threaten, including SDA Leader Bakir Izetbegovic", said the Srpska president.
He mentioned he would not go to Sarajevo because of the threats, but he would give a statement in a Srpska judicial institution.
"I feel safe and proud because the referendum went peacefully, as the democratic face of Srpska was demonstrated. I am ready to cooperate, but I am not willing to risk my life after the statement given by Izetbegovic that I will end up like Muammar Gaddafi, which is a call for the extreme Islamist groups to target me," said Dodik.
He has said that his team of lawyers will review if there are elements for a lawsuit against Izetbegovic over such statement.