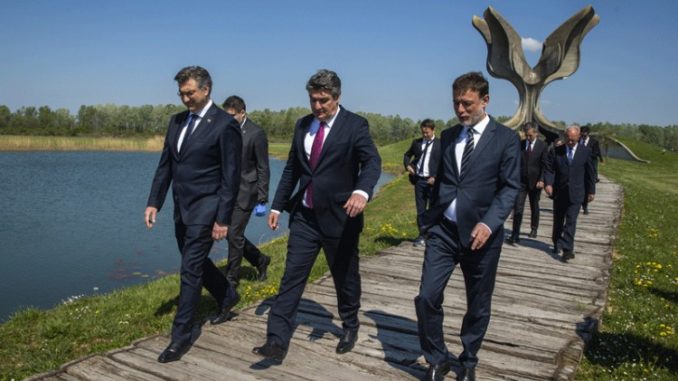 By laying wreaths and flowers, the Croatian State Summit and representatives of Jews, Serbs, Roma and anti-fascists living in Croatia, today paid tribute to the victims of the Ustasha Jasenovac concentration camp in World War II.
The joint wreath at the "Stone Flower" was laid by the President of the Republic Zoran Milanovic, the Speaker of the Croatian Parliament Gordan Jandrokovic and the Prime Minister Andrej Plenkovic.
The flowers were laid in memory of the victims by Ognjen Kraus from Jewish Community, the President of the Council of the Serbian National Council, Milorad Pupovac, MP of the Roma national minority, Veljko Kajtazi, and the President of the SABA RH Antifascist alliance, Franjo Habulin.
The official commemoration, aired directly by Zagreb's N1 television, due to the coronavirus epidemic involved only laying wreaths and flowers, with respect for social distance measures.
Kraus said he had come to Jasenovac ready for serious talks about the government's attitude to history.
"I also came here to solve all our problems in the interest of Croatia and to put all the mortgages that embarrass this country ad acta", Kraus said.
If that is not resolved, he said, they will certainly not be there next year.
"Now I reached out to start the talks. If nothing happens, we will definitely not be here next year. Some progress has been made," Kraus told reporters in Jasenovac.
Jandrokovic said that representatives of the state leadership came to show respect for the victims of the Ustasha camp and to condemn the character of the criminal Ustasha regime.
"We must never again allow evil in this region to happen as in the Second World War," Jandrokovic said, adding that it was necessary to have an understanding of one another.