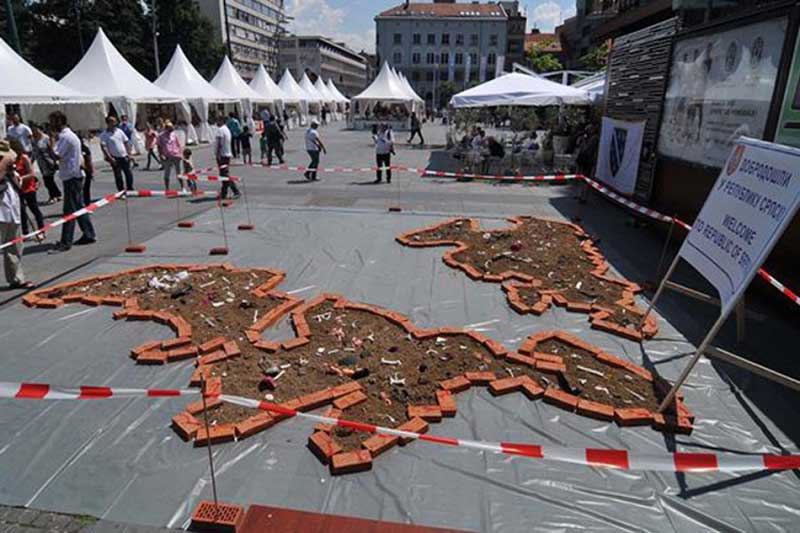 BANJALUKA – The Speaker of the Republika Srpska Parliament, Nedeljko Cubrilovic, expressed his bitterness and protest over an "art" installation put up in the centre of Sarajevo which depicts Republika Srpska as a mass grave, stressing that it is incomprehensible that 21 years after the signing of the Dayton Agreement, by which Republika Srpska was recognised as an independent entity in BiH, things which stir up national, racial and every other hatred and intolerance are happening
Cubrilovic says in a written statement that it is particularly incomprehensible that Bosniak politicians, but also Sarajevo citizens and NGOs, did not find it appropriate in the name of a common life, to which they are committed in words, to raise their voice against this, to put it mildly, insulting and humiliating attitude towards one part of their country, no matter how much they may dislike it.
"This clearly shows that many Bosniak politicians even today cannot come to terms with the choice of a constituent people, the Serbian people, and the will of the IC which in Dayton recognised Republika Srpska as an internationally recognised part of BiH. Even though the "art" installation was put up by an allegedly anti-Dayton group, we expect a fierce reaction by the IC, having in mind that this is a shameful attack on a coexistence of the three peoples and the two equal Entities," says Cubrilovic.
He asks for how long Bosniak politicians will speak of peace, coexistence and a single state, while allowing such, allegedly artistic, but in fact orchestrated performances against Republika Srpska, in the capital of the allegedly common state, says a press release from the Republika Srpska Parliament.
"Who does expect citizens of Republika Srpska and the Serbian people in BiH to feel such a country as their own and well-intentioned? If you think that a road of reconciliation and coexistence is a road on which mass graves should be drawn, then you should draw all mass graves, including mass graves containing Serbs massacred in the Podrinje area, Serbs killed in Sarajevo, Serbs killed in Capljina and Mostar, Serbs killed in Cazin and Bihac, Serbs killed in the Jasenovac concentration camp and Prebilovci, and all places where there were victims in the past war," Cubrilovic said.
An "art" installation was put up today in front of the BBI Centre in Sarajevo – a map of Republika Srpska depicting mass graves. "Welcome to Republika Srpska" was written alongside the map, and the authors say that their goal was to "show the way Republika Srpska was created."