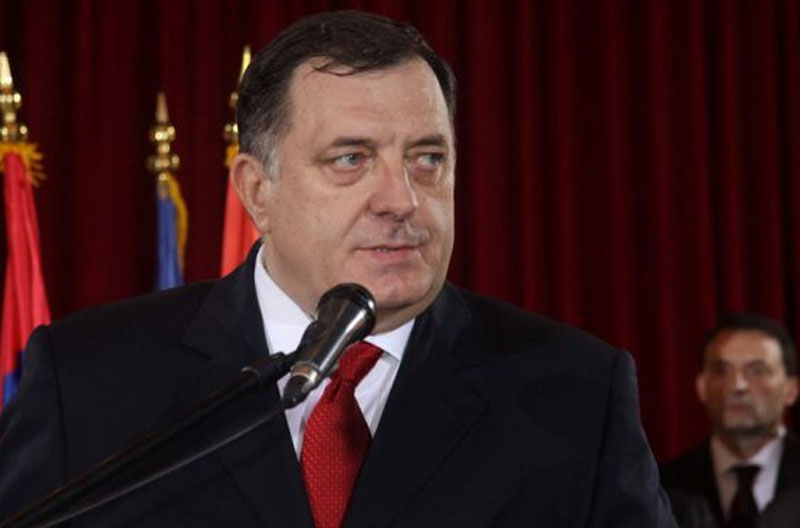 Belgrade – Srpska President Milorad Dodik claims there is no independence day of Bosnia and Herzegovina and that March 1 was a sad and tragic event, and for the Serbs synonymous with the violence committed against them.
"There is no BiH independence day. Some people in the Federation of BiH celebrate it and try to impose it as a state holiday. It isn't a BiH holiday. We don't have anything against them celebrating it as their own holiday. We have our own holiday, which is the Republic Day, January 9," Dodik told reporters in Belgrade following a reception held on the occasion of the Day of Republika Srpska and the first Srpska Constitution.
Dodik pointed out that Republika Srpska would keep celebrating its holidays and that it did not want anyone to impose on it some of their own.
In Bosnia and Herzegovina there is no joint holiday except for the New Year's and May 1, and possibly the Victory Day, but those are all international holidays, said Dodik.
"Not a single joint holiday, celebrated by the three peoples in BiH, is possible, because we have always been on the opposite sides of history and marked the holidays differently – some as a victory, some as a defeat," emphasised Dodik.
In any case, March 1 as far as the Serbs are concerned, he said, is synonymous with the violence that was committed against Serbs, for it was the date of the referendum which did not respect their political or democratic will and an attempt "to impose the political will of Bosniaks and Croats on the Serbs in BiH."
"No way can it be a holiday for us. It's just a sad and tragic event that didn't care for reality, while the subsequent historical processes have shown that it wasn't the best possible way to solve political problems in BiH," said Dodik.
He noted that this day in 1992 saw the declaration of the first democratic Constitution of Republika Srpska and that it was the reason and motive for holding a formal reception in Belgrade for the people in Serbia, the government, institutions of culture and education, and for friends of Srpska.
"I must say I am thrilled, even though it is Saturday afternoon and many are expected to be out of town, to see so many people come to this reception, which shows that Serbia and Belgrade truthfully support and endorse Srpska," said Dodik.
On March 1, 1992, Bosnia and Herzegovina held a referendum on independence, where 62.7 percent of Muslim and Croat voters voted for independence and a breakup from the then Socialist Federal Republic of Yugoslavia (SFRY).
The present-day Federation of BiH marks the day as the "independence day" while the Serbs in BiH see it as the day when an illegitimate decision was made by the Muslim and Croat people against the Serb interests.
On March 1, 1992, Serb wedding guest Nikola Gardovic was killed outside the Serbian Orthodox Church at Bascarsija in central Sarajevo, and fire was set to a Serbian flag, which incident portended the civil war in the former Bosnia and Herzegovina.