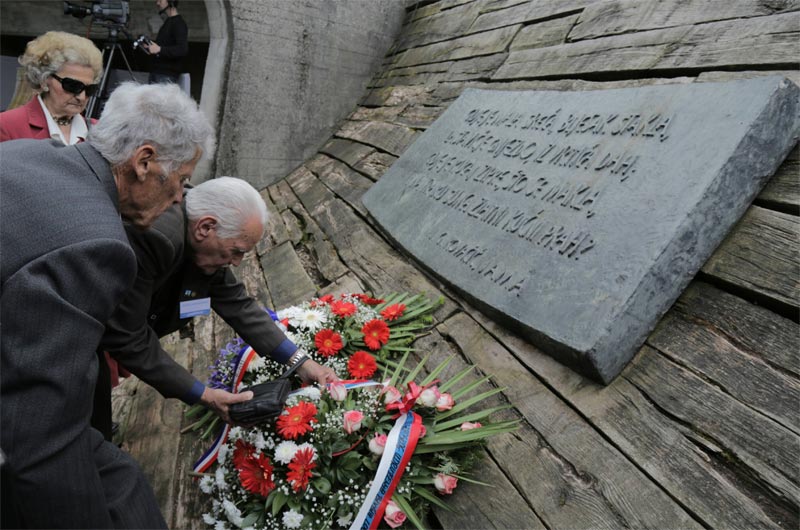 The Coordination of Jewish Communities in Croatia will boycott this year's commemoration event for the victims of the Jasenovac concentration camp.
As they announced, the decision was made in order to protest against the poor cooperation with the Jasenovac Memorial Institution, and against "the relativization and revitalization of the Ustasha movement" in Croatia.
The Ustasha regime was in power in the Nazi-allied WW2-era Independent State of Croatia (NDH), that operated the camp.
"The Coordination has decided not to attend the commemoration for the victims of the Jasenovac camp which is organized every year by the Public Institution Memorial Area (JUSP) Jasenovac. The reason for this is our disagreement with the policy of inaction in relation to the changes to the exhibitions of the museums, the delay of the appointment of the Council of the JUSP Jasenovac, and the daily political events related to relativization and revitalization of the Ustasha movement," said a statement, published on the website of the Rijeka-based Novi List daily.
It was also decided that the commemoration of the 71 anniversary of the breakthrough of the camp's prisoners will be organized by the group, in accordance with Jewish tradition.
The Coordination brings together ten Jewish Communities in Croatia.
Last year, the commemoration in Jasenovac was attended by then Croatian Prime Minister Zoran Milanovic and Assembly President Josip Leko, both from the Social Democratic Party. Croatian President Kolinda Grabar-Kitarovic (HDZ) did not attend, instead visiting the memorial earlier, unannounced, and without media coverage, breaking the tradition established in the past decade of presidents taking part in the events.
The public was informed of her visit in a statement issued afterwards.
Beta noted in its report on Monday that Jasenovac was a death camp and the largest execution site in Croatia, formed during World War II as a place of imprisonment, forced labor and liquidation primarily of Serbs, Jews, Roma, but also Croats and others, in order to create an ethnically pure quisling NDH.
From August 1941 to April 22, 1945 people were killed at Jasenovac because of their religious, national or ideological affiliation. The death camp's complex included other sites, namely Brocice, Krapje, and Stara Gradiska.
The agency noted that so far the names of 83,145 victims are known. 47,627 of them are Serbs, 16,173 Roma, 13,116 Jews, 4,255 Croats and 1,128 Bosniaks (Muslims). More than 20,000 children were among the Jasenovac victims.