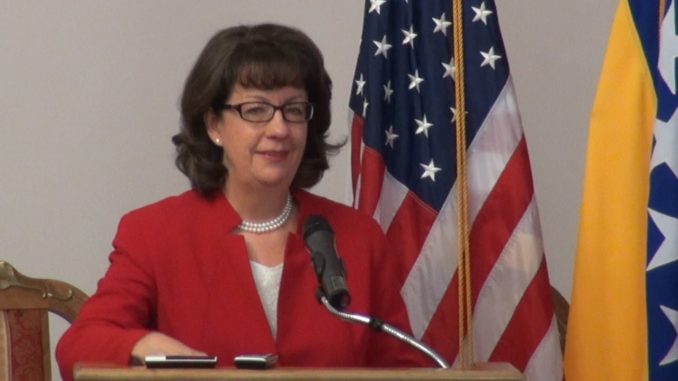 The United States is concerned with the lack of progress in BiH, BiH civic engagement is encouraging, but it is of critical importance that the demonstrations remain peaceful, said Ambassador Maureen Elizabeth Cormack yesterday. Cormack was appointed by President Barack Obama as the new ambassador to BiH, Patria (NAP) reports.
The nominated ambassador addressed the Senate Foreign Relations Committee yesterday.
She spoke of her future engagement in BiH, after which the Committee commented on her appointment. NAP published the most important parts of her brief speech.
Cormac recalled that several times in her career she has worked on issues like BiH and the Balkans, noting that she participated in the appointment of staff to the first U.S. embassy in Sarajevo after Dayton.
"The U.S. has invested much in BiH with the intent of strengthening democracy, human rights, and the economy, and thanks to this the country is progressing.
However, we cannot dismiss the risk of backsliding. BiH and the U.S have a special bond, because we helped to end the war and contribute to peace in the
country," said Cormack.
She noted that she will work directly with BiH citizens. Cormack said that she supports BiH's desire to be included in the European Union and NATO.
"BiH leaders promised to fulfill conditions for that and to conclude the mission of the High Representative, but the basic steps have not been taken.
Constitutional changes are essential for the EU and progress in the country. As was seen at the protests, people are frustrated because politicians are not responding to their problems. Despite that, there is progress, demonstrations and plena are a hope, but it is of critical importance that they remain peaceful," she said. Cormack pointed out that progressi n Croatia and Serbia are additional motivation for BiH.
Senator Edward Markey, the subcommittee's chair, said in presenting the ambassador that he believes with her leadership she will strongly contribute to the State Department's mission in her new engagement in BiH.
Senate confirmation is the final step in the appointment of ambassadors, after which Cormack should take her position in Sarajevo.
Cormack is a career diplomat who has worked in the State Department as principal deputy coordinator of the International Information Programs Bureau. Inter alia, Cormack served as director of the Office for Western European Affairs from 2009 to 2010, and as deputy director of the Office of Korean Affairs from 2006 to 2009.
She worked on the Homeland Security Committee from 2005 to 2006. She joined the State Department in 1989.
Cormack received a diploma from the University of Illinois and a Master's degree from the University of Chicago.