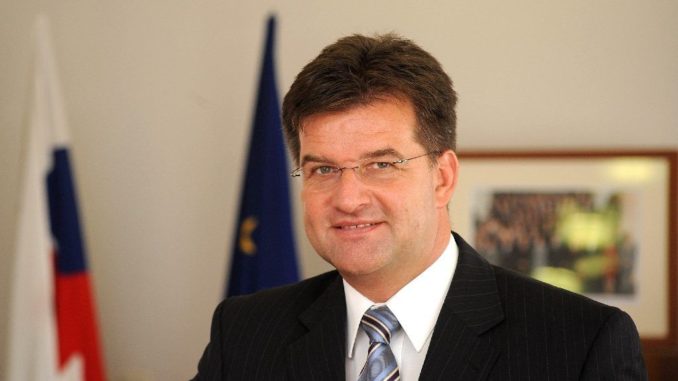 Miroslav Lajčak, Slovak Deputy Prime Minister and Minister of Foreign and European Affairs, interviewed by the CorD Magazine
An explosive month on the streets of Bosnia and Herzegovina has shown that stability in the region cannot be taken for granted. However, Miroslav Lajčak has confidence in each West Balkan state's ability to overcome their specific problems and make the strides necessary to fulfil their European Union ambitions,
Miroslav Lajčak has strong ties with the Western Balkan region. Not only has he served as High Representative for Bosnia and Herzegovina, he was also his country's Ambassador to FR Yugoslavia (later the unified Serbia and Montenegro), Albania and Macedonia. As such, he is especially qualified to talk about the region's ongoing political issues as well as each country's specific EU perspective.
Lajčak speaks exclusively to CorD about why a European future is so important to the West Balkans, and why the integration of all West Balkan states is key to realising the European Union's vision of a continent united.
Having worked as a diplomat in nearly every country in the Balkan region, do you think permanent stability will only happen if there is a new international agreement endorsing territorial rearrangement of existing borders?
– Lately the Balkan region has made tremendous progress, which has most definitely been witnessed by the entire European Union. Although it may have surprised some non-believers, I took it as another confirmation that the Balkan region undoubtedly belongs to the European family. The enlargement process, which was strongly reinforced in 2013 and at the beginning of 2014, is the best evidence that the EU perceives the situation in the Balkans positively.
Permanent stability is not just a vision anymore. On the contrary, it is a clearly defined goal with a good chance of being reached in the near future. I strongly believe that stability and prosperity in Europe is possible only with the West Balkans fully integrated within the EU. And now, with the clear-cut conditions on the table, the countries just have to take the last step: to fulfil the criteria. They just have to do it; it is as simple as that. But at the same time, that does not mean it is an easy process. In this context, there is no reason for any rearrangement of existing borders, since their significance will gradually diminish once a country becomes a part of the EU, as it was with us in Central Europe too.
Having witnessed history unfold, more people believe that Yugoslavia should have been kept alive as a unitary state at any cost, while others think the Yugoslav republics should have parted ways in the same manner as the Czech Republic and Slovakia. What is your take on this?
– Firstly, let me emphasise that I do not believe these returns to the past have any positive benefit for the former Yugoslav republics. What we all must focus on now are today's goals and challenges; let historians deal with history. We know these challenges are numerous, and, although much work has been accomplished, there is still a long way ahead of us. We must devote our time to the future, not to a past long gone.
The Yugoslav successor states each have their own problems, but also one shared goal that is clearly above all others: EU membership. Hence, 'Yugoslavia', which once tried to establish a modus vivendi for its nations and ethnic groups, can be united again under the common European flag. This was also the utmost motivation for the Czech Republic and Slovakia following our separation 20 years ago. Since joining the EU, Slovak-Czech bilateral ties have become even stronger. The EU – and I cannot stress this more – is by far the most successful modern integrative project. Without its power and engagement, creating a safe and secure environment in the Balkans would be much more difficult.
You are well acquainted with the region, its peoples and politicians. If you were to single out just one key problem in the Balkans, which would it be?
– We have all seen recently that although some problems might be seen as insurmountable, with sufficient political will, courage and determination to reach a compromise, everything is possible. The most significant example is the Brussels Agreement reached by Belgrade and Priština, which even the biggest optimists were initially sceptical about. On the other hand, there are obviously crucial issues to tackle that concern the whole region – rule of law, the level of corruption, organised crime or social dialogue, alongside economic challenges. The current protests in Bosnia and Herzegovina (BiH), recently followed by others in Podgorica, show us it is weak economies and high levels of unemployment that citizens wish to improve, not ethnic animosities, which certain irresponsible politicians are trying to put the blame on. Nevertheless, I remain convinced that the European integration process is by far the best instrument to resolve such problems. The example of Slovakia, which had to deal with similar issues in the past and ultimately achieved the highest level of integration – becoming part of the eurozone and the Schengen area – is proof of that.
You have called recent events in Bosnia and Herzegovina a 'Bosniak Spring'. What do you think is at the root of the demonstrations in BiH?
– All those people on the streets – and the number is many – give you the basic answer. Most of them can hardly live on the small income they earn, be they unemployed, pensioners or talented and educated people wasting their skills and knowledge in jobs for which they are overqualified. They have seen enough injustice in the country's economic and social life, as well as incompetence, weak rule of law and a high level of corruption. Not only frustration at their current situation but also gloomy prospects for their future has fuelled their desperation and led them to take to the streets. Here, I must say that this was no surprise for me. On the contrary, were I a citizen of Bosnia and Herzegovina, I would join the protests too because the domestic politicians bear a huge portion of responsibility for this situation and increased pressure is the only way to make them more committed. Their lack of determination and vision has caused the stagnation of the country in many fields, including the integration processes with the EU and NATO.
Why do you think demonstrations took place mostly in towns with a majority Bosniak population rather than those with majority Serbian and Croatian populations?
– This is a very good question and the answer may not be a simple one. However, I would expect that there is a correlation between the locations where the demonstrations took place and locations where people have experienced severe economic and social decline for the past 10-to-15 years. The situation is unfortunately really very difficult in all parts of the country and calls for a quick response. The politicians are those who should come up with solutions and concrete deeds. Moreover, claims that there is some hidden ethnically motivated agenda behind the protests are plain wrong and should be condemned as absolutely counter-productive and unacceptable.
Republika Srpska has already expressed its doubts about the spontaneity of the protests, suggesting they are a prelude to ousting Milorad Dodik and a new attack on the Serb entity. This is despite the belief that the protests are about corruption and social dissatisfaction as a consequence of an unsustainable state tailored in accordance with the Dayton Agreement. What are your views on this?
– This is just another explanation formulated in Bosnia and Herzegovina and it has not convinced me at all. I tend to believe that many political leaders are either trying to find an excuse or substantiate explanations that would suit their particular political goals. If they really care about Bosnia and Herzegovina, their people and their voters, they should attempt serious self-reflection and try to perceive the current situation as an opportunity to transform and modernise the country.
You were the EU's High Representative in BiH and are in favour of changing the so-called Dayton Constitution. How can the national issue in Bosnia be resolved?
– There are different models of accommodation for national issues in modern states that can serve as inspiration for Bosnia and Herzegovina. Each of the models reflects a particular historical, cultural and political context. The same goes for Bosnia and Herzegovina: there is a need for a functional model that will reflect the overall context and have broad societal support. Let me stress the following: even the best possible theoretical model will not function if there is a lack of mutual confidence and political will.
Is it realistic to expect a domino effect or some kind of 'ex-Yugoslav Spring' throughout the region? It all started with Slovenia last year, and some think Montenegro could be next…
– It is not correct to compare the Arab Spring with the situation in the Balkans because the two regions find themselves in completely different political, social, ethnic and cultural contexts. Not even the heirs of the former Yugoslavia could be expected to follow the same route. Each of the West Balkan countries is unique and their respective paths have diverged. Slovenia was the first to become a member of the EU. Croatia took longer to join the EU's ranks, but finally succeeded in doing so last summer. Serbia and Montenegro are on the right track, although there are still open issues that need to be addressed. BiH and Macedonia lag behind, but there is still hope that processes in those two countries might speed up. So no, there is no common ground for this kind of domino effect. Fortunately, we have a positive agenda for the region.
That does not mean that the situation in the West Balkans is ideal, especially with respect to the economy, employment, general living standards, the rule of law and the level of corruption and organised crime. As I have already mentioned, we in the EU are focused on the development of the region and are ready to continue to offer our assistance and support wherever it is necessary. There is no global player that would be more engaged and focused on the Balkans than the EU, and Balkan countries are well aware of this. Due to various reasons, be they geographical, cultural, strategic or economic, the EU simply cannot be replaced in its role by anyone else. Hence I am convinced that it is only enlargement, with its transformative power, that will ultimately contribute to the long-lasting stability and progress of the West Balkans.
When asked how Serbia could commence EU accession talks while its constitution still cited Kosovo as part of its territory, you responded by saying, "The EU certainly will not take over the unsolved problems of anyone." Does this statement imply that, before becoming an EU member, Serbia must remove Kosovo from its constitution and, in essence, formally recognise it as an independent state with which it must foster good neighbourly relations?
– Concerning the substance [of what I said], it was a preoccupation with previous unresolved issues, which had diverted attention away from the main EU challenges. As for relations between Belgrade and Priština, nowadays the main challenge is the further continuation of dialogue on both a political and technical level, as well as the implementation of agreements already reached. This must be our primary focus, as we have already noticed that several important agreements remain only on paper and their implementation is by far the greatest challenge. We in the EU will ensure we keep both sides at the table and motivate them to make further progress.
According to my understanding, agreements from the dialogue envisage legal and constitutional changes anyway. But what I would like to stress is that this is not a special case. In fact, each and every new EU member state has had to modify or amend its constitution in some way. Both the EU and candidate countries evolve over time and these changes must be reflected, sometimes even in the form of constitutional changes. I am sure that an adequate legal formulation will be found and that it will be no tragedy for Serbia, as some are trying to put it.
Why does Serbia continue to receive unconvincing diplomatic messages from Brussels about the EU not insisting on recognition of Kosovo's independence?
– Firstly, I would like to underline that the EU has always stressed that normalisation of relations between Serbia and Kosovo via the means of dialogue is the most important issue. That is the first and foremost diplomatic message from Brussels. I am glad it has been followed by both Belgrade and Priština's leaders. The process of dialogue and its concrete results, including the Brussels Agreement, means they are convinced their future is firmly connected with the EU family. To put it differently: their EU perspective has become irreversible and the dialogue has no other alternative anymore. It must be made clear: non-recognition of the UDI of Kosovo does not mean a denial of its European perspective.
Following Croatia's EU accession, what would be a realistic pace be for the rest of the region to join the EU?
– The enlargement process, based on European values, is important for all European nations and people, including those from the Balkans. On the other hand, the accession process is unique and highly specific to each country because each is assessed on its own merits. One should not speculate about dates and numbers; setting very ambitious deadlines has always been particularly attractive, but also politically irresponsible. When speaking with countries' individual leaders, I always stress that fulfilment of the established criteria for membership is crucial and specific conditions cannot be simply bypassed.
Concerning the West Balkans as a whole, it is clear that the pace of integration and readiness for EU membership varies from one country to another. One of the most crucial steps in the recent period was the European Council's decision to open accession negotiations with Serbia. But – again – to each its own: in each respective West Balkan country there is a clear understanding of what needs to be done, changed, adjusted and improved to make their European dreams come true.
What is your message to Eurosceptics outside the EU who believe that once Serbia, Montenegro and the rest of region's accession becomes imminent, the EU will no longer exist in its current form?
– It is clear that during recent decades the EU went through both qualitative and quantitative changes. Today it includes 28 members and the integration process has been strengthened by the creation of the Schengen area and the establishment of the eurozone. The EU today is a powerful political, economic and monetary union, which is a more than solid ground for its future. However, the world around us evolves, matures and moves on, and the EU adapts to ever-changing conditions to remain an effective player on the world stage.
Right now we have identified the four pillars that constitute the essence of the future EU: monetary union, fiscal union, economic union and democratic legitimacy. Common values and rules, along with financial guarantees in times of global crisis, make the EU today the most attractive civilised project. And it must be stressed that it has always remained open for new members. I have always mentioned the success story of the Slovak Republic, which has contributed to the stability, security and prosperity of the EU, and at the same time the process of transformation and integration paved the way for a better life for the country's citizens.
The possibility of bringing back the visa regime for Serbian citizens has been mentioned fairly often. Some have even said this threat is a tool used to discipline Serbia. How realistic is it to expect Serbian citizens to be made to stand in line for visas once more?
– I remain convinced it is essential to maintain the current visafree regime for Serbian citizens travelling to the Schengen area. Slovakia will certainly not initiate any changes in this matter. I also believe the issue of false asylum seekers will be resolved in cooperation with EU member states, particularly the most affected ones, and that respective measures will be taken by Serbia's competent state institutions.
We are about to mark the centenary of World War I and the Balkans is being viewed as a 'powder keg' once more due to growing poverty. What can the EU do to change this given the low level of enthusiasm among EU members for assisting Europe's poorer countries financially?
– The truth is that the best tool against becoming a 'powder keg' is to maintain social stability and prosperity within a country and security outside its borders. I must admit there is some truth that enthusiasm has fallen a bit. However, the enlargement process still remains a key part of all important EU policy documents. This vision that the EU shall ultimately encompass all European states regardless of language or history is still powerful enough. Moreover, there have been concrete measures and policies initiated by the EU to help keep this vision alive.
The EU has established and continues to provide assistance despite the crisis inter alia via the Instrument for Pre-Accession Assistance (IPA), supporting reform processes and the overall development in the region, not only via the provision of expertise and technical means, but also through financial assistance. We are here to help the leaders of the West Balkans succeed in bringing forward measures for economic consolidation and growth restoration. But you have to do your part too – that's how it works.