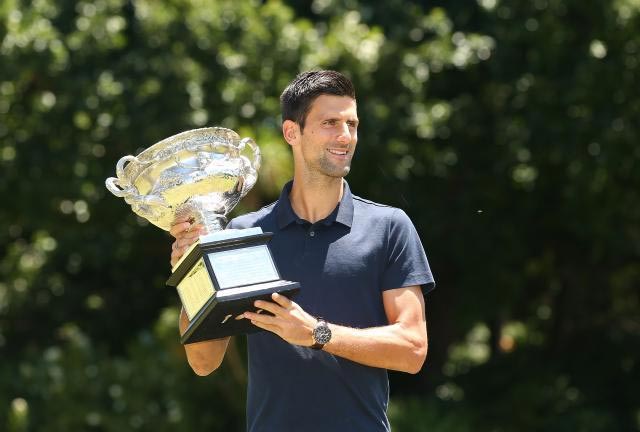 He has been at the very top of the tennis game for a decade, having spoken during thousands of press conferences, and having done hundreds of "one on one" interviews.
However, with a man of Novak Djokovic's breadth new topics and different angles impose themselves, so one could talk indefinitely – in an interview with B92 the world's number one tennis player speaks about comparisons to Kobe Bryant, dreams and nightmares, the extra nervousness associated with playing for Serbia, his relationship with God, meditation…
Novak finished training in one of Wimbledon's Aorangi Park courts, and had not even reached the gate when numerous TV crews and almost everyone who happened to be there at the time gathered around him.
According to our agreement made the previous day, Novak stopped and dedicated about ten minutes to us, while others watched and recorded despite not being able to understand a word.
Djokovic's schedule, especially during the tournament, is strictly defined, but even beyond that the tennis life is full of obligations. However, Novak also sometimes gives himself a break, so we started by asking about the longest period in the last five or six years during which the world's number one tennis player did not pick up a racket.
"That was in 2011, I made a pause after the Davis Cup semifinal against Argentina. I was injured during the U.S. Open, I was able to finish, but then it was made worse in Belgrade and it must have been for five weeks that I did not touch a racket because of a torn muscle. When it comes to taking a break, I've been known to extend it to two weeks, usually when the season is over – during the season in the summer I pause for about ten to twelve days. I am one of a few players who takes so much time off, I have the least number of tournaments played, but taking into account the results I achieve in major tournaments, I give myself the luxury to be able to rest, and I think that this is very important for my further career," Novak said at the beginning of his conversation with B92.
Everyday events, or our thoughts shaped in unusual ways, often come to us in our dreams. Tennis is a huge part of Novak's life, so it makes sens that it is also present when he sleeps.
"There have been many dreams, majestic and beautiful, where I imagined myself with the biggest trophies, especially from Roland Garros, and that dream came true. It's just 'flashes', some scenes – no matter how vivid a dream is, a man only remembers some short parts. Granted, there have also been nightmares, but it'd keep that to myself."
Currently Djokovic stands at 12 Grand Slam titles, and is without a doubt among the best tennis players of all time -but the trophies are not the only legacy that the Serbian tennis player will leave behind. Similar to Kobe Bryant in the NBA, Novak has set new standards of professionalism, and many people say that he made hard work look 'cool', something that others aspire to – but something that some previous role models failed to achieve.
"More than 'cool' – I think it is inevitable and necessary in order to be professional and dedicated to achieving the highest goals in the most demanding sports. It is now a reality and everyday life – court, gym, developing psychological and physical capabilities, character building, work on one's own spirituality, maturing in every sense… In short, you have to be a whole person in order to realize your potential fully, no matter how big it is."
Djokovic has played 20 Grand Slam finals, but still seems to be more nervous when he plays for Serbia during the Olympics or the Davis Cup, as if he is faced with a new dimension of pressure.
"True, the feeling is different, even though I have a lot of experience, and, thank God, I experienced the greatest matches a tennis player can experience. On the other hand, the sensation of representing your country is special, especially in front of a home crowd – many positive thoughts go in my direction, but also a lot of nervousness and tension because everyone really cares, and so do I. There is also the fact that there is a captain, something I'm not used to, as well as my teammates who support me during the Davis Cup – probably the whole experience of this situation creates additional tension in me, which is in the end normal because the stakes are much higher, you're not just playing for yourself."
After winning the biggest titles Djokovic always thanks his family and his team, and especially the fact that they "put up with him" the previous days. We asked him what it was he was doing to them, to which Novak laughed, and said:
"The moment is probably not right to go into the details, but in general my daily rhythm and habits that serve to prepare me in the best way are tolerated to a large degree. They are there to give me the support that means so much to me – it would be at least twice as hard without it. Although I am alone in the court, they take care of all the things that surround me – the schedule, when I eat and what I eat, the procurement, organizing rackets, recovery, mental preparation… Absolutely everything, they take care, to the smallest detail, so that together we achieve the goal."
In his most difficult moments in the court it is not uncommon for Novak to look skyward – during the Australian Open final in 2012 he addressed God by saying, "just one more" – and there has also been communicating with a superior force during the recent Roland Garros. His mother Dijana recently commented for a TV show on Novak's reaction during the final in Paris – she explained a situation that hardly anyone noticed, Novak looking at the sky and saying, "Here I am, I'm here."
"It's very subjective, everyone has their own way to try and focus – some try with prayer, some simply with proper breathing, or by thoughts of certain situations in life that bring peace and positive energy. I do not have one specific thing to focus on when I close my eyes, there's several of them, but it all comes down to breathing and trying to focus all thoughts to the present moment. The universe works so that it becomes completely open and supportive to a calm mind, so I try to be grateful for that moment and pray for the presence of an all pervasive energy."
Following on this question, we arrived to the next topic – meditation, which has its place in the way of life of the world's best tennis player. Negative thoughts in life's different segments are trying to undermine us on a daily basis, but the way in which we fight them is the key to everything. This is exactly what sets the world's number one tennis player apart from his colleagues.
"As any other man, I go through fluctuations in the course of each day, I have thoughts that are not desirable and that do me more harm than good. I can tell you what works in my case – I'm not trying to suppress such thoughts and emotions, but to accept them, to look for a way to confront them and to find a solution to redirect all that energy to my advantage. This is a basic explanation, but I repeat, everyone does it in their own way," said Novak, and added:
"Sometimes it may seem unnatural that in certain situations you give yourself some positive affirmations and say positive words, but it is something that really helps, because the world of energy around us works that way – we all have an electromagnetic field and what you emit, that's what you get back. That's why I try to always be cheerful in my thoughts, but also that people I surround myself are like that, the news that I read, the situations I encounter… When you're surrounded by such energy and when you arrange your life in that way, then you get positive results. "
In the end, we asked Novak to send a short message to all his supporters in Serbia.
"Much love and big greetings. I'll never forget what people in Serbia did for me, the welcoming in 2011 after winning Wimbledon, when I became the world number one. I said it then and I say again that I am in debt forever to that nation for that beautiful event and the unforgettable day – I send them love and positive energy to carry them through their lives," Novak concluded his interview for B92.
"I have always tried to learn as much as possible"
"I believe that in life every man has a choice, though it sometimes seems that one does not. I'm talking now about some of the most ordinary things in the way one behaves – the way you treat another person, whether you'll be kind or behave badly because you're having a bad day. That always depends on you. Somehow, I have always tried to learn more – to encompass all possible fields of knowledge, even though I know I have to prioritize, to harmonize them with the life that I lead, and to stick to that," Novak said in his interview for B92 (in Serbian) last year that covered many topics he previously never addressed, or addressed rarely.