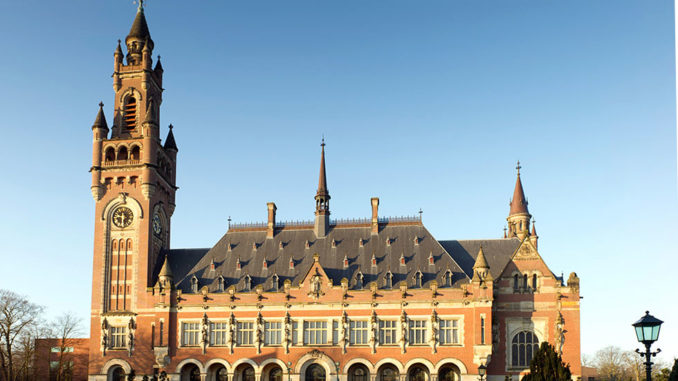 Rejecting Croatia's claims of genocide by Serbia, Belgrade told the International Court of Justice that Zagreb hadn't proved that Yugoslav troops and paramilitary fighters were under Serb control.
Novak Lukic, a member of the Serbian legal team, told the International Court of Justice on Friday that Croatia "didn't provide any evidence that supports these allegations that the JNA [Yugoslav People's Army, accused of a genocidal campaign during the 1991-95 war in Croatia] was an arm of Serbia".
"Furthermore, the JNA was funded from the existing [Yugoslav] federal budget and not a Serbian one," Lukic said, adding that the Croatian team didn't provide any proof that the JNA was "dependent in any way on Serbia", nor that Serbia had "control or influence" over it.
Croatia and Serbia are suing each other at the UN-backed court, alleging genocide during the conflict.
Serbia also argued on Friday that Zagreb's legal team failed to prove that paramilitary units allegedly controlled by Belgrade, such as the Serbian Volunteer Guard which was commanded by notorious fighter Zeljko Raznatovic alias 'Arkan', and also known as 'Arkan's Tigers', were responsible for genocide.
"There is no evidence of [Belgrade's] alleged control over the Serbian Volunteer Guard, nor that that unit committed genocide," Seerbian team legal member Dusan Ignjatovic said, referring to a Croatian claim that Arkan's fighters were responsible for genocide in the town of Vukovar in 1991.
To back up his claims, Ignajtovic cited a recent ruling by the International Criminal Tribunal for the Former Yugoslavia (ICTY) which said that Serbian state security officials didn't have control over paramilitary units in Croatia.
Meanwhile Sasa Obradovic, the head of Serbia's legal team, said on Thursday that Croatia was trying to "demonise" Serbs in a bid to win its genocide case, a ploy that could prevent the improvement of relations between the neighbours who were at war between 1991 and 1995.
"I doubt that this will contribute to a reconciliation based on historical facts," Obradovic said.
Obradovic said that during the case which started earlier this month, Croatia had "established a mantra: 'genocide is not a numbers' game'" instead of proving that Serbia was guilty.
Another member of Belgrade's legal team, Andreas Zimmermann, said that some of the Croatian arguments were "nothing but a fairytale in the reality of the international law".
Zimmermann argued that the Federal Republic of Yugoslavia, which succeeded Socialist Yugoslavia, could not be held accountable for crimes committed before it was constituted.
He cited a previous ruling by the International Court of Justice which said that Eritrea only became obliged to obey the Genocide Convention after it became independent.
Another member of Belgrade's team, Wayne Jordash, said that judgments made in war crimes trials at the International Criminal Tribunal for the Former Yugoslavia backed up Serbia's case.
"Contrary to [Croatia's] claims, the ICTY has not consistently rejected the proposition that the Serbian leadership from Belgrade was engaged in lawful conflict; it has consistently accepted it," said Jordash.
"The findings are consistent with the suggestion of legitimate armed conflict designed to establish control of territory through fighting the Croat military forces that the applicant claims did not exist," he added.
During hearings at the court earlier this month, Zagreb argued that Serbia committed genocide during the 1991-95 conflict, saying that Belgrade wanted to seize a third of Croatian land during the 1990s war and remove all Croats.
But Serbia argued that Croatia failed to put forward any evidence that this was genocide, and then presented its counter-suit to the court, also alleging genocide.
Both Zagreb and Belgrade have expressed confidence that they will win their cases, but some experts have suggested that neither will be able to prove genocide, and expressed concerns that the court proceedings will sour relations between the two neighbours.
Since it was established after World War II, the International Court of Justice has only recognised one case of genocide – the Srebrenica massacres in Bosnia and Herzegovina in 1995. (BIRN, TNS)