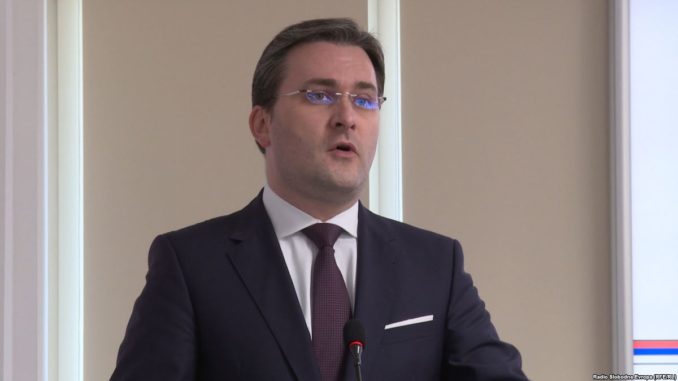 The vice-president of the Serbian Progressive Party said that it would not forget the support it has received from Republika Srpska's opposition Serb Democratic Party.
Nikola Selakovic, vice-president of Belgrade's ruling Serbian Progressive Party, SNS, told a conference of the Serb Democratic Party, SDS, in Bijeljina on Sunday that it had his backing ahead of polls due in Bosnia and Herzegovina in October this year.
"We from the SNS do not like to interfere in others' internal political scenes and therefore not in the internal politics of Republika Srpska," Selakovic said.
"However, we cannot forget the time when we in Serbia were an opposition party and when our friends and brothers from the SDS were first to respond to our every call. For that… the SNS is with you now," he said.
Support from a Serbia ruling party is considered highly important in Republika Srpska, Bosnia's Serb-led entity, and the chief of the ruling Alliance of Independent Social Democrats, SNSD, Milorad Dodik, has emphasised Belgrade's significance on many occasions.
In recent years, Dodik was very close to Boris Tadic, the former Serbian President from the Democratic Party. At the Serbian presidential elections two years ago, Dodik supported Tadic, who lost to SNS candidate Tomislav Nikolic.
Relations with the Serbian ruling establishment have not been as close since then even though Dodik has paid several visits to Belgrade and met SNS chief Aleksandar Vucic.
Speaking at the conference attended by several hundred SDS supporters on Sunday, Selakovic also said that the SNS wanted to see Republika Srpska stable, in accordance with the Dayton Peace Accords which ended the Bosnian war – a situation which would bring stability to people living on both sides of the Drina river which divides the entity from Serbia, he insisted.
SDS president Mladen Bosic told the conference meanwhile that it could be a risk to peace and stability to suggest, as Dodik has done, that there could be more than two political entities in Bosnia and Herzegovina.
"The story about [having] three or four entities in Bosnia and Herzegovina means giving up and leaving the Dayton Peace Accords," Bosic said.
"A third, Croatian entity means leaving the Dayton Peace Accords… that is a too large a risk for Republika Srpska," he added.
Even though the SNSD is the ruling party in Republika Srpska and the SDS is in opposition, the two parties used to make up a bloc in state-level institutions, before splitting last year over inter-party disagreements.
The SDS said last month that it planned to join forces with other opposition parties in Republika Srpska for the October polls in a bid to defeat the SNSD, which has held the ruling majority since 2006 – a move which could benefit from the support of the Serbian governing party.
By Elvira M. Jukic
(balkaninsight)