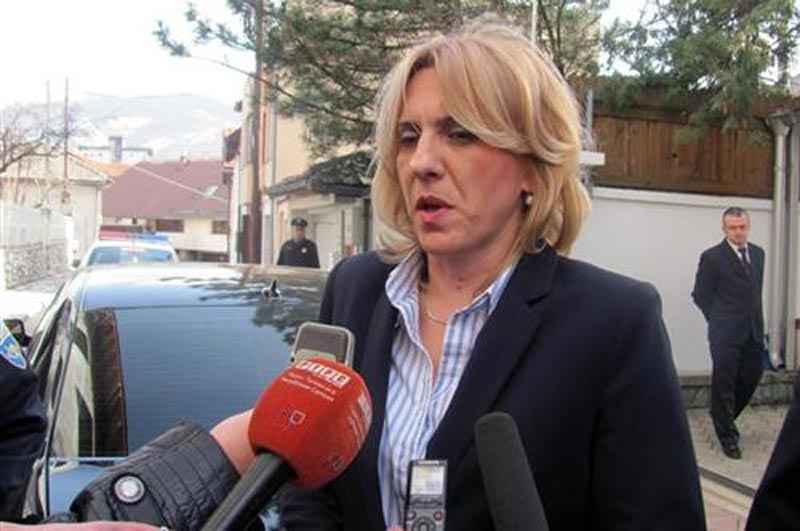 Banjaluka – Republika Srpska Prime Minister Zeljka Cvijanovic stated that Srpska will continue to actively support the EU integration process, with full observance of constitutional competences and Dayton Peace Agreement.
At the meeting with the EU High Representative for Foreign Affairs and Security Policy Federica Mogherini, which was held in Sarajevo, Cvijanovic pointed out that the reform processes will require political agreement and support of all levels of authority.
Cvijanovic familiarized Mogherini with the reform measures initiated in the scope of Srpska Government's 2015 Economic Policy, which are in compliance with the idea to keep economic and social reform in the focus of the EU initiative for BiH, Srpska Government's press office said in a statement.
During the meeting, the latest EU initiative for BiH was discussed, as well as possibilities for overcoming the deadlock in European integration process.
Adoption of written commitment is just first step
Republika Srpska Prime Minister Zeljka Cvijanovic said that the adoption of the written commitment to undertake reforms in the framework of the EU Accession Process constitutes the first and initial step, which is yet to be followed by real work."This is a demonstrative phase, for manifesting good will, but the real work is yet to follow, bearing in mind the fact that a large portion of reforms ahead of us is linked to the executive authority and the entities," Cvijanovic said in Sarajevo following a meeting with the EU High Representative for Foreign Affairs and Security Policy Federica Mogherini.
Srpska prime minister familiarized Mogherini with the so far activities in Republika Srpska, and with those to be undertaken in the coming period.
"Compared to other levels of authority, we have already taken specific measures and adopted the first set of reformative legislation at the special government session held yesterday. This set will be forwarded to the National Assembly, and, in parallel, we are preparing the second set of reformative legislation," said Cvijanovic.
She expressed regret that the coordination mechanism had not been adopted earlier, at the time when the proposal was completed.
"Today, we also tackled the issue of coordination mechanism, taking into account that this is the key issue for BiH, not only in the context of EU integration, but also from the aspect of our general mutual interaction and functioning within BiH. We will have to resolve this issue fast, as a prerequisite for some other things," concluded Cvijanovic.
She noted that the focus at this moment is put on economic and social issues, and said she expects that the entities will have more or less similar solutions and approaches in this sphere.
"The remaining part is the one in connection with the Council of Ministers of BiH, relating to their competences. In the coming period, after we implement these key reforms, surely the greatest challenge will be how to ensure further progress if we do not come up with the coordination mechanism in the meantime," said Cvijanovic.
The EU High Representative for Foreign Affairs and Security Policy Federica Mogherini welcomed the decision of the BiH houses of representatives and of peoples to endorse and adopt the written commitment to undertake reforms in the framework of the EU Accession Process in Sarajevo on Monday. (SRNA)