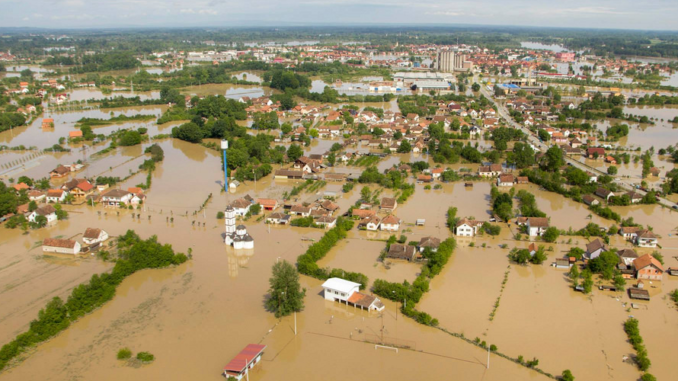 Floods and landslides in Bosnia prompted people to put aside ethnic differences and
From sportsmen from Bosnia and Serbia who raised money together to volunteers who went from one part of the country to another to help people, Bosnia's recent floods have prompted many to put solidarity ahead of ethnic divisions.
The international High Representative to Bosnia, Valentin Inzko, said on Friday that the floods seemed to have united all peoples in the country in a common fight against the catastrophe.
"I was deeply touched by numerous scenes of ordinary citizens rushing to help people in need in neighbouring cities and towns and across entity lines – entity lines did not exist — risking their lives and donating supplies and assistance," he told a news conference.
"It has shown us once again that the people of this country are not interested in hearing about the divisions of the past. They want to build a successful country together in the interests of all."
Inzko also linked the reaction of ordinary people to the floods with months of protests against politicians.
"Their response has been consistent with – and in some cases directly connected to – the new civic activism. This is going to have political consequences," he said.
In one example of ethnic divisions being put aside, the mayor of Samac, in the Republika Srpska part of Bosnia, said the most important help the town received came from Gradacac, in the mainly Bosniak-Croat Federation.
Republika Srpska Veterans Minister Petar Djokic also thanked the citizens of Gradacac for their help and for "getting over the events of the past and showing their human sides".
Officials in Doboj in Republika Srpska also thanked the nearby town of Tesanj in the Federation for their help. A policeman said the town had received more aid from Tesanj than it had from Republika Srpska's civil protection service.
Many analysts said that the solidarity among the people showed how nationalist politics had let down ordinary citizens.
"The problem was never in the people of these areas, but people were used by political elites in order to stay in power," said Slavo Kukic, a political analyst and sociology professor at the University of Mostar.
"In Bosnia and Herzegovina, people are not in a quarrel but politicians who represent them don't want cooperation and dialogue," he added.
There were many other examples of solidarity. Serbia's world number two tennis player Novak Djokovic took part in a doubles match with Bosnia's Damir Dzumhur and other players from the Balkans in Paris at the weekend, with proceeds going to flood relief efforts in the region.
Last week Djokovic dedicated his win in the Masters tournament in Rome to the victims of the floods.
A doctor from Tuzla, Adnan Burina, wrote to Djokovic to praise him for his response.
Burina wrote that the floods in Bosnia, Serbia and Croatia were not receiving so much international media coverage until Djokovic drew attention to them.
"You sent an honest message to ones who needed it," his letter said. (BIRN)