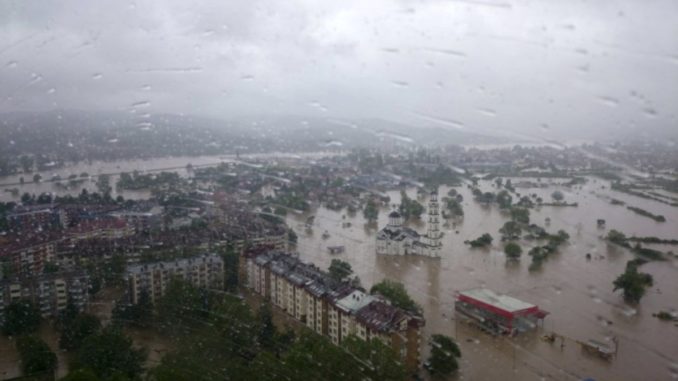 Mitra Colic stands in the shell of her home, anguished by the worst flooding in the Balkans in 150 years. "I have moments when I cry and think: What next? Can I go on like this?" she says.
Colic, a 71-year-old retired cleaner, moved to the northern Bosnian town of Modrica during the Yugoslav war from her home near Vukovar, a city in Croatia that endured one of the longest and bloodiest sieges in that conflict. Now she again faces the prospect of rebuilding her life after the floods that swept across the city in a matter of hours, running three and a half metres (11ft) deep in places and making thousands homeless.
"I'm ill, my body is reacting to this," said Colic from the sodden concrete space that was once her front room. Outside in the sun, relatives scrubbed kitchen appliances in the vain hope they might work again.
"But there were floods like this all over the country, there are many people in my position. This is my home, my life. I want to repair this house – I won't leave," she added.
The floods that hit Bosnia, Serbia and Croatia in the past week are the worst in over a century. Reports suggest three months' of rain fell in a matter of days. In Bosnia alone, 40,000 people have been evacuated and 25 confirmed dead – but the death toll is expected to rise. Bosnia's foreign minister has said the destruction is comparable to that in the 1992-95 war that killed 100,000 people and still scars the country.
The damage across the region is expected to cost billions of euros. It is a disaster that Bosnia – one of the poorest countries in Europe – cannot afford. Here the average net wage is just €420 (£340) a month, and the country relies on EU funding of about €100m a year.
Colic's district – built in the past 20 years and largely populated by ethnic Serbs who fled other parts of the former Yugoslavia during the war – sits beside the river Bosna on a plain beneath a pockmarked medieval fortress shrouded in forest. Muddy lines on buildings show how high the water rose. Suburban roads are now stony dirt tracks, stripped of asphalt. There is a stench of rot. A tanned middle-aged man pushes his bicycle slowly. His house has been entirely swept away, he said.
Downriver, the destruction is more apocalyptic. In what was once an affluent riverside district, one house lies levelled like flat-pack furniture. Next door a swimming pool has been dislodged and sits on the muddy riverbank.
The landslides that are the biggest single danger as floodwaters subside are shifting uncleared wartime minefields.
Of 1,200 sq km of known mined areas, 800 sq km have been affected by flooding and topsoil movement, a diplomatic source told the Guardian. By the end of last week, seven explosions of mines and buried ordnance had been reported and, while there have been no fatalities, the situation poses "a serious risk to recovery efforts", the source said.
"This is a real disaster," said Dusko Pejic, a community mayor in Modrica. "We are poor, and what's happened has made us poorer." Pejic is coordinating humanitarian aid, which at local level involves NGOs and local volunteers.
The Red Cross has brought a mobile field kitchen where men stir a vast vat of cabbage with a paddle, and there is a dusty warehouse piled high with donated clothes, from children's dungarees to white leather high-heeled boots.
The bravery of volunteers across the region has been a defining feature of the disaster. In Modrica, Vidra, a local amateur diving club set up to respond to flooding, scrambled its two dinghies to save people in appalling conditions.
"The water came very, very fast, and was rising quickly," said Zoran Popovic, one of the Vidra volunteers. "It was almost impossible to get our boats on to the river, we kept on capsizing and the waves were a metre and a half high, but we managed. Every time I went out, I didn't know if I could come back.
"Our motivation was the children we could see on the balconies of buildings – when I took one little girl on to the boat, she threw her arms around me and said 'I love you'."
The disaster has also brought Bosnia's fractured communities closer together. Before, Modric was a divided town with a Serb majority, many of whom were refugees like Colic and a Muslim minority largely living in a hillside suburb where the comfortable houses of affluent Bosnian diaspora stand next to buildings studded with bullet holes and shell-damaged ruins. But almost every person the Guardian spoke to emphasised a new spirit of togetherness. Muslim teenagers gathered to collect drinking water to bring to evacuated Serbs in their churches.
"Everyone has helped one another, regardless of nationality," said Mustafa Mustajbegovic, a Modrica municipal official. "This is the silver lining to the cloud."
The evacuation efforts of the army, one of Bosnia's few functional multi-ethnic institutions, have also been praised. But the country's fragmented administrative system means there is no centralised disaster-management system and decision-making is piecemeal and short-term, Sven Seifert, executive director of arche noVa, an NGO providing emergency drinking water, told the Guardian.
Long-term recovery will present a serious challenge, given the lack of resources and weak administrative infrastructure. Unlike Croatia and Serbia, respectively an EU member state and an official membership candidate, Bosnia does not have access to the Union's €500m European Solidarity Fund. The European Commission officials and diplomats have said that cash to support the recovery can be channelled through Bosnia's existing pre-accession funding programme. But many Bosnians, uninsured and suspicious of their ethnically-divided politicians, expect to rebuild their lives through their own efforts, supported by meagre salaries and remittances from family abroad.
Twelve miles north across sodden fields at the confluence of the rivers Bosna and Sava, Samac was the last Bosnian town to be hit by flooding, and the last where waters receded. Tractors pulled trailers stacked high with furniture out of the town in scenes reminiscent of the war. That not salvageable burned on a huge bonfire outside the city limits.
The water poured in rapidly, but the residents, aware of what had happened upstream, were either evacuated or sheltering upstairs in tall buildings.
"In one day everything was destroyed," said Misko Peskic, a young agricultural engineer, as he walks to collect drinking water in the baking sun. "It was just water, everywhere."
On Saturday afternoon, parts of Samac remained flooded. Cars lay overturned in water, trees uprooted, pavements were smashed, and residents and student volunteers from Banja Luka, two and a half hours away, shovelled the huge amounts of mud away from roads and piled ruined furniture and belongings outside homes and shops.
At Indira Hadzic's clothes shop, dresses on hangers were caked in mud, while mannequins and shoes were scattered in the floor. A path had been cleared to the garishly decorated church of St Demetrius, a warrior saint popular in the region, but inside the glutinous mud clung to the floor and altar drapes.
Two blocks away, a young woman commandeered a boat to take her and several cartons of cigarettes to her grandparents, who had refused to leave and were sheltering in their undamaged upstairs flat in a part of town still under water.
Some were less fortunate, but panic has given way to a Balkan pride and resilience. Across the street, Snezana Hadzic stood sobbing as she looked out over the flooded patch of ground where her house stood. She had escaped her home and spent three days at a neighbour's house before being evacuated to a nearby town, and had returned to see what remained.
"I'm devastated and depressed, but what can I do?" she said. "These things happen – life goes on." (Тhe Guardian)