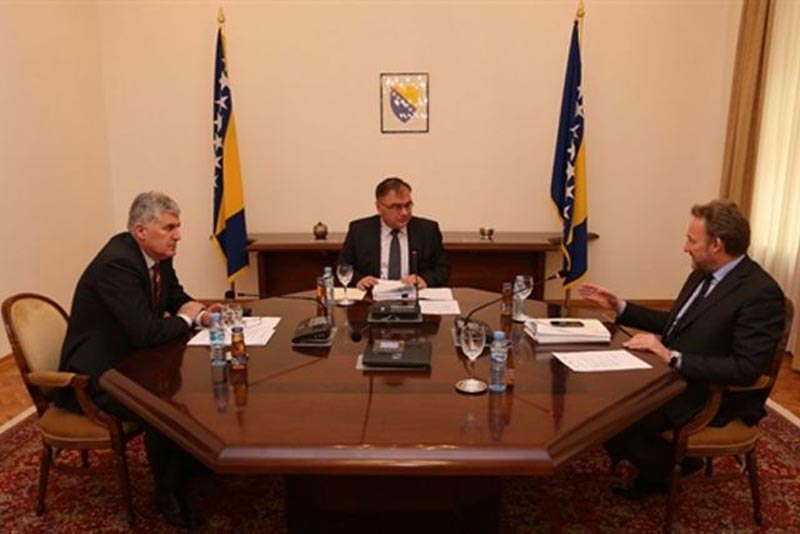 Sarajevo – BiH Presidency condemned in the harshest possible terms the attack on the Public Security Station in Zvornik, qualifying such attacks as a threat to security, constitutional order, and international position of BiH and its citizens.
The Presidency of BiH called on citizens of BiH to stay calm and refrain from any activities that might lead to interethnic or interreligious provocations, incidents, and raising tension, the Presidency said in a statement.
The Presidency of BiH called on competent police and judicial bodies at all levels to cooperate with each other and carry out a detailed investigation aimed at establishing of all facts relating to the crime committed, including the motives behind the attack, as well as possible connections to other persons or accomplices.
"BiH Presidency demands from judicial, police and intelligence-security agencies to undertake all necessary measures towards prosecuting and sanctioning severely all persons who advocate or prepare criminal acts of this kind, as well as all persons who in any way are linked to such crimes," reads the statement.
The Presidency of BiH extended their deepest sympathy to the family of Dragan Djuric, who had been killed in the line of duty, expressing their hope for a quick recovery of Zeljko Gajic and Stevo Milovanovic, who had been wounded in the attack.
Policeman Dragan Djuric was killed last night in a terrorist attack on the police station in Zvornik, committed by Nerdin Ibric /24/ from the village of Sapna near Zvornik. During the attack, policemen Zeljko Gajic and Stevo Milovanovic were wounded.
Ibric, who shouted "Allahu Akbar" during the attack, was killed in the exchange of fire.
Zvornik, Dragan Lukac, Republika Srpska, Terrorist attacl, SIPA, Bosnia and Herzegovina, Nerdin Ibric, Allahu Akbar, Wahhabi, Presidency of BiH