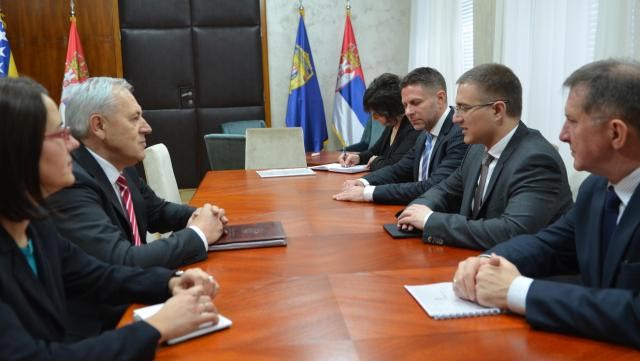 BELGRADE – Serbian Interior Minister Nebojsa Stefanovic and Bosnia and Herzegovina's newly-appointed Ambassador to Serbia Lazar Mirkic said Tuesday that the security situation in the region is satisfactory and that the relevant services in both countries are cooperating actively, being aware that organised crime and terrorism know no boundaries.
Mirkic congratulated Serbia on the opening of the first negotiation chapters in the EU accession talks, an Interior Ministry statement said.
Thanking Mirkic, Stefanovic said that Bosnia and Herzegovina (BiH) can count on Serbia's support in elaborating an action plan for Chapter 24.
Stefanovic noted that cooperation with BiH institutions is exceptionally good, noting that several significant agreements have been reached, including a recently signed protocol on forensic cooperation between the two police forces.