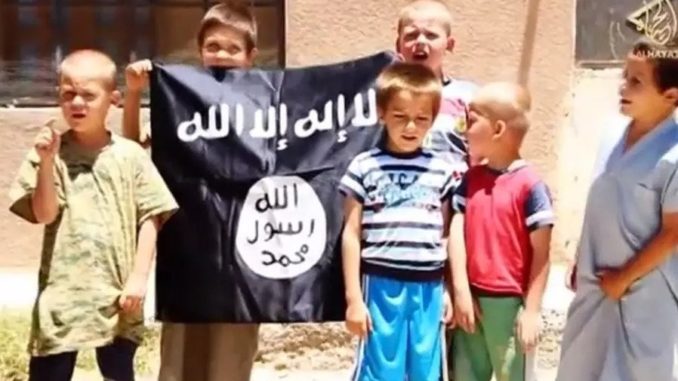 Children of foreign fighters hold Islamic State flags and brandish guns, chanting: "Send a message to the Crusaders of America: Your grave will be in Syria, our state is victorious."
Children are among the ranks of the organization striking terror in the hearts of people across the Middle East and making headlines in the West with brutal executions recorded and distributed over the Internet.
A video placed online by the Islamic State, and translated by MEMRI, shows some of the youngest ISIS recruits, a group of Bosnian children who appear to be under 10 years old in Syria, holding the group's black flag.
In the clip, the children chant "Allah Akbar," and "the Islamic State is here to stay."
The children of Bosnian militants, one of the many groups that has arrived in Syria from abroad to fight with the organziation, are seen playing with firearms as well.
Two of the children send greetings to "al-Baghdadi and his lions," referring to Abu Bakr al-Baghdadi, the leader of the Islamic State.
The children say that their adherence to Sunni Islam and the Koran will bring them victory.
"Send a message to the Crusaders of America," the children chant in unison, "Your grave will be in Syria, our state is victorious."